District 2 businesses honored as part of Hispanic Heritage Month for making a difference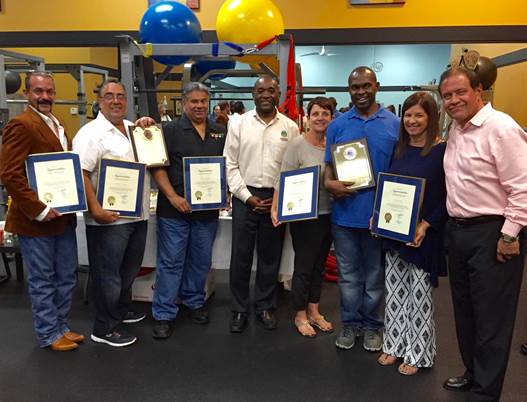 From left: Hiram Quinones, Raudel Balseiro, Frank Mercado, Chairman Jean Monestime, Pailine and Chauncey Williams and Puerto Rican Chamber of Commerce President Luis De Rosa
MIAMI-DADE, FL – As part of the Hispanic Heritage Celebration Month events, the South Florida Puerto Rican Chamber of Commerce and Miami-Dade County Commission Chairman Jean Monestime honored businesses in District 2 for making a difference. The event took place on Oct. 21, 2015 at Body Preference, Inc., located at 15455 W. Dixie Highway in North Miami Beach.
"As a small business owner, I understand the struggles business owners face on a daily basis and I congratulate these businesses on their success," Chairman Monestime said. "These small businesses are also an example of the many contributions made by Hispanics to our economy, culture and way of life."
The honorees of the night were Body Preference owner Chauncy G. Williams, Insurance Industries President Stacy Parks, Kiosko Latin Café co-owners Frank Mercado and Raudel Balseiro, and Mr. Trophy President Hiram Quiñones.