Biscayne Gardens welcomes new gateway monument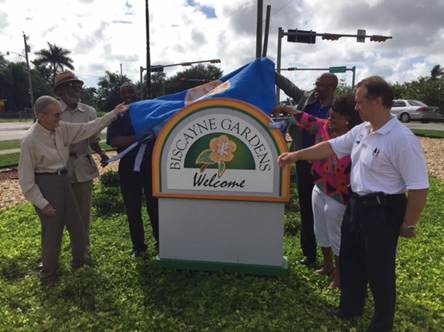 From left: Sign Creator Wes Layne, Biscayne Gardens Civic Association President Vernell Everett, Chairman Jean Monestime, Biscayne Gardens Chamber of Commerce President Bernard Wh. Jennings, VP of Biscayne Gardens Civic Association Elizabeth Judd, and Parks and Open Spaces Deputy Director George Navarrete.
Photo by Griselle Marino/Office of the Chair
MIAMI-DADE, FL – Biscayne Gardens is welcoming residents and visitors with a brand new entrance sign. Miami-Dade County Commission Chairman Jean Monestime joined Miami-Dade County Parks, Recreation and Open Spaces Department officials and residents on Nov. 4 as the 5-by-4-foot "Welcome to Biscayne Gardens" monument sign was unveiled at the corner of Northwest 148th Street and North Miami Avenue.
The new gateway monument features the Biscayne Gardens logo and a stylized hibiscus flower and is decoratively landscaped with perennial peanut plantings, various shades of gravel and bahia grass. The entrance sign project was the idea of area homeowners and became a reality thanks to a resolution sponsored by Chairman Monestime.
"This new gateway sign and beautiful landscaping represent our commitment to the residents of Biscayne Gardens and present an attractive entryway to welcome visitors," Chairman Monestime said. "This site will serve as an endearing community landmark for years to come."
The $53,230 gateway monument project was funded by the Quality Neighborhood Improvement Program.
"We are proud of this completed development for the Biscayne Gardens community. This new gateway sign is another great example of how Miami-Dade Parks is working to develop 'placemaking' and 'greening' projects that reinvigorate Miami-Dade's public spaces and corridors," said Miami-Dade Parks Deputy Director George Navarrete.