Miami-Dade County launches "Cities for Citizenship" initiative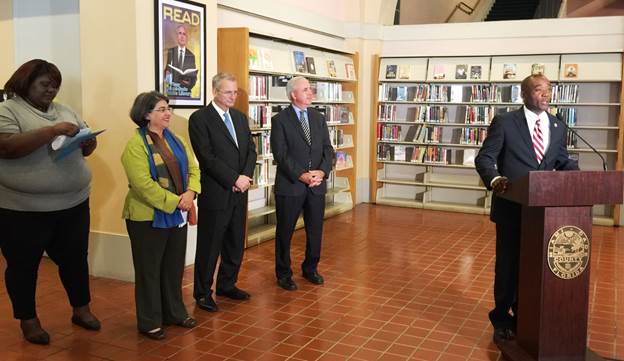 Chairman Jean Monestime at the "Cities for Citizenship" initiative press conference
(Photo by Griselle Marino / Office of the Chair)
(MIAMI-DADE, FL) – Miami-Dade County has joined nearly 20 cities across the country in "Cities for Citizenship," a major national initiative aimed at increasing citizenship among eligible U.S. permanent residents and encouraging cities across the country to invest in citizenship programs. As part of this initiative, the Mayor created the Office of New Americans of Miami-Dade County. Chairman Jean Monestime joined Mayor Carlos A. Gimenez and Commissioner Levine-Cava at a joint press conference on Nov. 10 where the announcement was made.
"This county is defined by the contributions of immigrants from around the Americas and the world. Becoming a citizen was for me a big part of achieving the American Dream, and I'm excited to have joined in sponsoring this legislation to help more of our immigrant community enjoy the benefits of citizenship," Chairman Jean Monestime said.
The Miami-Dade County Commission on June 30, 2015 approved a resolution sponsored by Commissioner Daniella Levine Cava and Chairman Jean Monestime to join the Cities for Citizenship initiative. It called for developing and implementing a plan to promote increasing the number of legal permanent residents in Miami-Dade County who apply for citizenship. Permanent residents can now obtain assistance at Miami-Dade County's new Office of New Americans. The new office will help applicants complete the N-400 citizenship application through clinics or one-on-one sessions. It also will help applicants gain access to financial coaching and determine eligibility for the application fee waiver.
Nationwide, there are more that 8.8 million immigrants in United States who are currently eligible to become citizens, with 1.17 million legal permanent residents in Florida, and approximately 494,000 in Miami-Dade County. Studies show that residents who naturalize see an average increase in earnings of 8-11%. That would result in a $3.2 billion increase in earnings if only half the residents who are eligible become citizens.
Cities for Citizenship is chaired by New York City Mayor Bill de Blasio, Chicago Mayor Rahm Emanuel and Los Angeles Mayor Eric Garcetti, with support from the Center for Popular Democracy and the National Partnership for New Americans. Citi Community Development is the Founding Corporate Partner. Miami-Dade County's efforts will be supported by the Florida Immigrant Coalition (FLIC), the Miami-Dade Public Library System, Catholic Legal Services, Florida International University School of Law and Catalyst Miami, among others.