Miami-Dade County stands in solidarity with France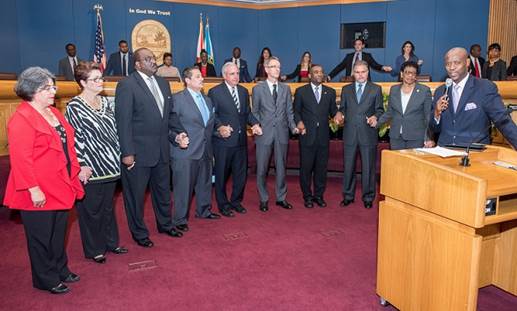 County elected officials join hands with France's Consul General in Miami at the Nov. 17 County Commission meeting. From left are County Commissioners Daniella Levine Cava, Rebeca Sosa, Dennis C. Moss and Jose "Pepe" Diaz, Mayor Carlos A. Gimenez, French Consul General Philippe Létrilliart, Chairman Jean Monestime, Commissioners Bruno A. Barreiro and Barbara J. Jordan, and Pastor Joanem Floreal of Shalom Baptist Church.
(Photo by Michael Fullana / Miami-Dade County)
MIAMI-DADE, FL – Miami-Dade County Commission Chairman Jean Monestime, the Board of County Commissioners and Mayor Carlos Gimenez joined hands with French Consul General Philippe Létrilliart on Nov. 17 in a demonstration of solidarity with France and other nations that recently sustained terrorist attacks.
The show of unity took place at the beginning of Tuesday's County Commission meeting, which featured a moment of silence followed by the French national anthem and a prayer for the victims and the people of France.
"We extend our sympathies to the French citizens who live in Miami, our French partners who operate businesses in Miami, and all the French who are here today as visitors to Miami. And we also express our resolve to stand with the French people as the perpetrators are brought to justice," Chairman Monestime said.