More than 200 children receive toys from Chairman Jean Monestime, Joshua's Heart Foundation and Unilever brightFuture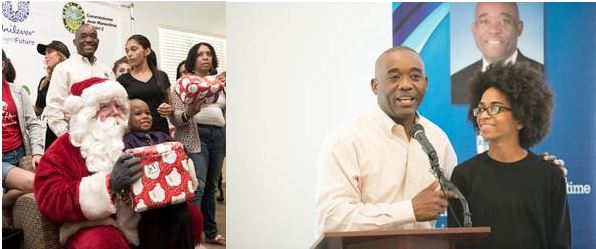 At left, children have their pictures taken with Santa Claus and their new toys. At right, Chairman Monestime with Joshua Williams. The event was held at the Arcola Lakes Park Senior Center.
(Photos by Ryan Holloway / Miami-Dade County)
MIAMI – In an effort to raise awareness about child hunger, Miami-Dade County Commission Chairman Jean Monestime teamed up with Joshua Williams of Joshua's Heart Foundation (JHF) and Unilever brightFuture on Dec. 19 to host a neighborhood meal for needy families at the Arcola Lakes Senior Center for the second year in a row.
The "Share A Meal" event provided a hot cooked meal, entertainment and a gift bag full of donated food supplies to low-income families. More than 200 children received new toys and had their pictures taken with Santa Claus.
"It was very rewarding to see so many families enjoy the bounty and blessings of the holiday season," Chairman Monestime said.

At left, Chairman Monestime carries a bag filled with toys. At right, Chairman Monestime enjoys a hug from a constituent.