Chairman Jean Monestime promotes EITC to help working families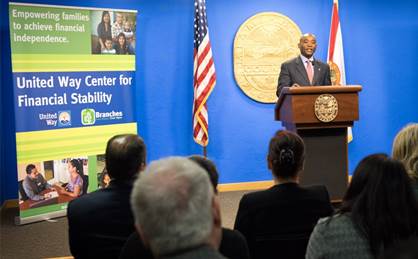 Chairman Jean Monestime discusses the EITC.
(Photo by Michael Fullana / Miami-Dade County)
MIAMI-DADE – Miami-Dade County Commission Chairman Jean Monestime joined representatives from United Way, Branches, the City of Miami and the IRS at a press conference in the Stephen P. Clark Center on Jan. 29 to raise awareness about the Earned Income Tax Credit and its important role in helping struggling families.
The EITC, a federal tax credit for low- and moderate-income working people, lifts more people out of poverty than any other national program, but the IRS estimates that about 17 percent of Miami-Dade County residents who qualify aren't claiming it.
Chairman Monestime highlighted the EITC's importance and discussed the Volunteer Income Tax Assistance (VITA) program that provides free tax preparation to qualified residents at various sites around the county and helps ensure that residents maximize their refund and claim the EITC if they are entitled to it.
"Last year, Miami-Dade residents who filed their tax returns at a VITA site saved more than $1.5 million in tax preparation fees and received more than $11.3 million in refunds, but I believe we can and should do even better," Chairman Monestime said. He urged the public to help get the word out about the program and to call 3-1-1 to find a VITA site near them before the April 18 tax filing deadline.
Chairman Monestime also previewed Bank On Miami, which will be launched in February as a collaborative effort to help residents gain access to safe and affordable financial products and services, become more financially stable and reduce dependence on predatory financial products.
Reducing the County's income gap has been a focus of Chairman Monestime's legislative efforts since being elected Commission Chairman in January 2015, when he set up the Council for Prosperity Initiatives to identify ways to expand economic opportunities.
Following the press conference, VITA volunteers helped several residents file their taxes and claim the EITC on laptops set up outside the County Commission Chamber.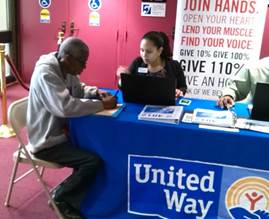 A local resident gets tax help from a VITA volunteer following the press conference.
(Photo by Office of the Chair staff)