Chairman Jean Monestime honors the Miami Central Rockets and the Gwen Cherry Bulls football teams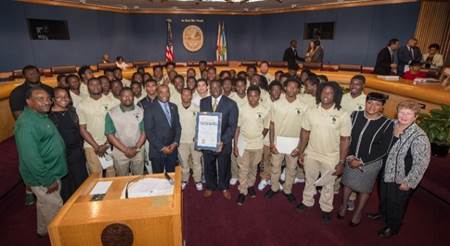 Above: Chairman Monestime presents proclamation naming Feb. 17 as "Miami Central Rockets Day"
Below: Chairman Monestime, far left, honored the Gwen Cherry Bulls for winning the 2015 Pop Warner Junior Midgets and Junior Pee Wee National Champions football title.
Feb. 17 was also proclaimed "Gwen Cherry Bulls Day"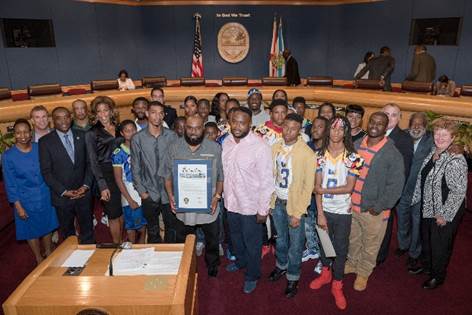 MIAMI-DADE – Miami-Dade County Commission Chairman Jean Monestime honored the Miami Central Rockets Senior High School and the Gwen Cherry Bulls football team at the Feb. 17 County Commission meeting for winning the 2015 FHSAA Class 6A State Championship and the Pop Warner National Title games, respectively. It was the fourth consecutive state title for the Miami Central Rockets and the fourth national title for the Gwen Cherry Bulls. This was the fifth time teams from Gwen Cherry Park compete in the National Championship Game and both the Junior Pee Wee, ages 11-12, and the Junior Midgets, ages 13-14, won.
"Becoming a four-time champion is a huge accomplishment for both football teams, and it's a tribute to the hard work of the students, coaches and parents, as well as remarkable team spirit," Chairman Monestime said. "These student athletes are an inspiration to the community, and I encourage them to continue achieving great things both on the field and in the classroom."
Many former Miami Central players have gone on to be signed by Division One college football programs.
A parade to celebrate Miami Central Rockets victory will take place on Saturday, Feb. 20 at 9 a.m. between 17th Avenue and 22nd Avenue on 95th Street.