Chairman Monestime recognizes Robert Battle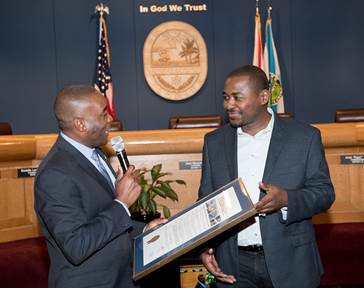 Robert Battle, artistic director of the Alvin Ailey American Dance Theater, accepts a proclamation from Chairman Jean Monestime.
(Photo by Ryan Holloway / Miami-Dade County)
MIAMI-DADE – Robert Battle, the artistic director of the celebrated Alvin Ailey American Dance Theater, was honored at the Feb. 17 County Commission meeting by Chairman Jean Monestime in celebration of Black History Month.
Chairman Monestime presented Battle, whose journey to the top of the modern dance world began in Liberty City, with a proclamation recognizing his achievements.
"Thank you for being an example for the next generation, and continue to inspire them through your achievements," Chairman Monestime told Battle.
Battle became artistic director of Alvin Ailey American Dance Theater in 2011.