Chairman Jean Monestime congratulates County Attorney Abigail Price-Williams on being an "In the Company of Women" honoree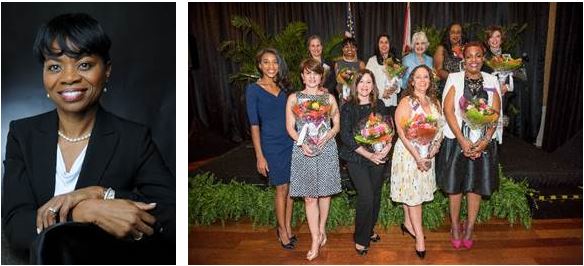 At left, County Attorney Abigail Price-Williams. At right, Price-Williams accepts her recognition along with other "In the Company of Women" honorees.
MIAMI-DADE – Miami-Dade County Attorney Abigail Price-Williams was among 12 women who were honored at the 28th annual "In the Company of Women" awards ceremony on March 3 at the Coral Gables Country Club, winning in the Government and Law non-elected category..
"Abigail Price-Williams is a tremendous example of leadership, excellence, and commitment, and I congratulate her and all the other recipients for their dedication to this community," said Miami-Dade County Commission Chairman Jean Monestime.
The other winners were Maria Nardi of the Miami-Dade County Parks Department, Dr. Lillian Rivera of the Florida Department of Health in Miami-Dade County, Patricia Robbins of Farm Share, Lourdes Lopez of Miami City Ballet, Tanya Ferreiro of Kaufman Rossin, Mayte Padron of Channel 10, Karen A. Tynes of the Miami Herald Media Company, Miami Gardens Councilwoman Lisa C. Davis, Dr. Helena Solo-Gabriele of the University of Miami, and United States Women's National Soccer Team head coach Jill Ellis. The posthumous award went to attorney, financial advisor, and real estate broker Sophie Baltic Herter.
"Growing up, my siblings and I learned valuable lessons at the park, like how to win and lose gracefully, how to play fair, how to follow rules, and the importance of teamwork," said Price-Williams in a video presentation that aired during the ceremony.
For more than a quarter century, and to commemorate Women's History Month, the In the Company of Women honors the achievements of Miami'-Dade County's women leaders. Together, with the Women's Park, this celebration pays tribute to women from all walks of life and acknowledges their diverse contributions to our community
Last month, Price-Williams also received the George F. Knox Legacy Award from the Florida International University College of Law H.T. Smith Black Law Students Association and was named one of "Miami's 25 Most Influential and Prominent Black Women in Business and Leadership for 2015" by Legacy Magazine.
"We are very fortunate to have someone like Abigail Price-Williams leading our County Attorney's Office," Chairman Monestime said.