Chairman Monestime's statement on the passing of Commission Auditor Charles Anderson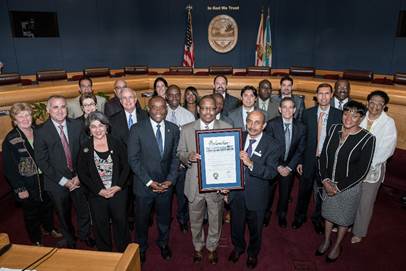 Miami-Dade County Commission Auditor Charles Anderson accepting a proclamation for Internal Auditor Awareness Month at the May 3, 2016 Commission meeting.
(Photo by Ryan Holloway/ Miami-Dade County)
MIAMI-DADE – I am stunned and saddened by the news of the death this morning of Charles Anderson, Commission Auditor for Miami-Dade County.
Mr. Anderson was the first Commission Auditor for Miami-Dade County. He was selected to fill this important role in 2004, following the creation of the Office of Commission Auditor by the voters of Miami-Dade County. He was a Certified Public Account and Certified Inspector General and previously served as an Inspector General with the State of Florida for 10 years. Prior to that, Mr. Anderson spent seven years as a Senior Auditor for the City of Tallahassee.
I extend my sincere condolences to his wife, son, friends and colleagues at the Office of the Commission Auditor.
NOTE TO EDITOR: Video of Commission Auditor Charles Anderson receiving the proclamation sponsored by Chairman Monestime during May 3, 2016's Board of County Commission Meeting for Internal Auditor Awareness Month available at: http://miamidade.granicus.com/MediaPlayer.php?view_id=3&clip_id=3853. Please click on item 1D8 on left side bar.