Young Woman Achiever scholarships awarded by the Commission for Women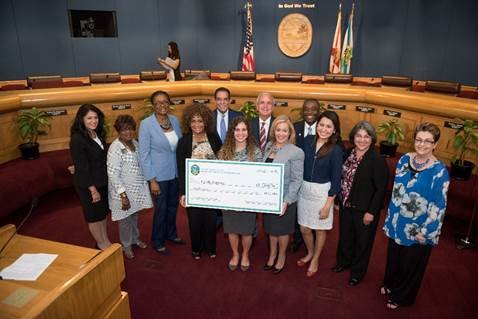 Miami-Dade County Commission for Women presents $1,000 scholarships to Young Woman Achiever award receipients Isabella Castillo, Kelly Korpela, and Camila Martinez
(Photo by Armando Rodriguez / Miami-Dade County)
(MIAMI-DADE COUNTY, FL) – The Miami-Dade County Commission for Women recently presented its "Young Woman Achiever" scholarships to three outstanding graduates of the Young Women's Preparatory Academy.
The $1,000 scholarships were awarded to Isabella Castillo, Kelly Korpela, and Camila Martinez at the June 21st Board of County Commissioners meeting. Ms. Castillo will be attending the University of Florida, Ms. Korpela will be attending the University of South Florida, and Ms. Martinez will be attending Florida International University. The funding for the scholarships was generously donated by the following sponsors: County Commission Chairman Jean Monestime, Commissioner Barbara Jordan, Commissioner Audrey Edmonson, Commissioner Jose "Pepe" Diaz, Commissioner Juan Zapata, Honorable Dr. Smith Joseph, Mayor of North Miami, VITAS Innovative Hospice Care, Odalys Dipp, Darna Aybar Guardia, Belinda Leon, Beverly Nixon, Marie Woodson, and Laura Morilla.
The Young Women's Preparatory Academy, Miami-Dade County's distinguished public magnet school for girls, is consistently ranked as one of the top 100 high schools in the United States. The Commission for Women has developed a partnership with the school and awards annual scholarships to its graduates.
Created in 1971, the Commission for Women falls under the purview of the Office of Community Advocacy, a division of the Office of the Chair, and serves as an advisory board to the Board of County Commissioners, the County administration and the public at large about issues pertaining to the status of women. The Commission for Women also advocates for women in the community and strives to improve their quality of life. For more information, contact the Commission for Women at (305) 375-4967 or CFW@miamidade.gov, or visit www.miamidade.gov/advocacy/women-board-home.asp.