Hispanic Affairs Advisory Board distributes mosquito repellent to South Dade farm worker families in the fight against Zika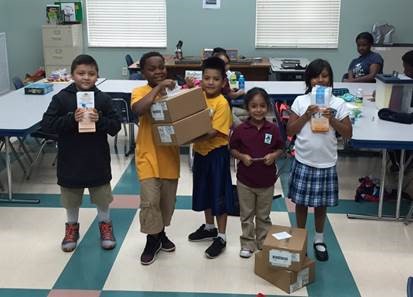 Children of South Dade farm workers receive boxes of mosquito repellent wipes to help prevent the spread of Zika.
MIAMI – The Miami-Dade County Hispanic Affairs Advisory Board (HAAB) and the Office of Community Advocacy distributed mosquito repellent to South Dade farm worker families on Aug. 25 as part of the effort to prevent the spread of the Zika virus.
Mosquito repellent wipes provided by the Miami-Dade County Mosquito Control Center and repellent spray provided by the Florida Department of Health in Miami-Dade were distributed to the Coalition of Florida Farmworker Organizations and Centro Campesino Farm Workers Center, Inc.'s after-school program, which serves more than 200 children of farmworkers.
HAAB staff also distributed the County's "Drain and Cover" campaign pamphlets with information on how residents can help control the mosquito population.