Mayor Carlos A. Gimenez and County Commissioners sworn in at installation ceremony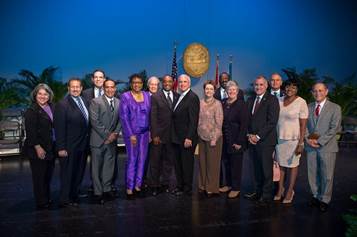 Mayor Carlos A. Gimenez and 2016-2020 Board of County Commissioners
Photo by Armando Rodriguez/Miami-Dade County

MIAMI-DADE – Miami-Dade County Mayor Carlos A. Gimenez and seven returning County Commissioners kicked off new terms at an installation ceremony held on Nov. 22 at the Miami-Dade County Auditorium.

Commissioners Barbara J. Jordan, Audrey Edmonson, Bruno A. Barreiro, Xavier L. Suarez, Dennis C. Moss and Esteban Bovo, Jr. were all reelected this year to serve four more years on the County Commission, while voters returned Commissioner Joe A. Martinez to the Commission after a four-year absence. The Mayor and Commissioners spoke about their goals for the next four years while discussing some of the accomplishments they are most proud of.

The event can be viewed at www.miamidade.gov/webcasting.

Pictures of the event available for download at: www.facebook.com/jeanmonestime.