Hampton House Reconstruction Begins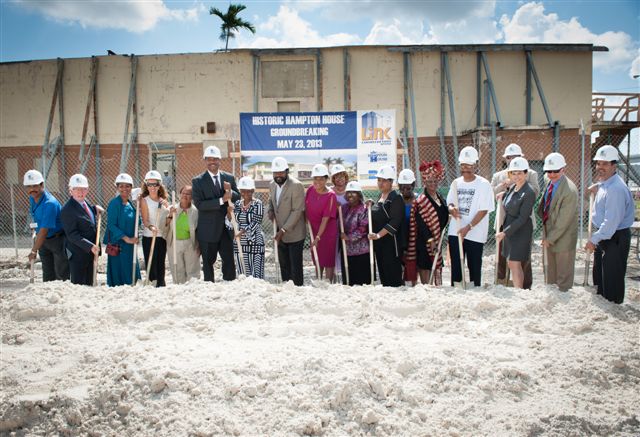 Photo by Ryan Halloway/Miami-Dade County Photographer
(Miami-Dade County, FL)- Commissioner Audrey M. Edmonson joined Dr. Enid Pinkney, Executive Director of the Historic Hampton House Trust, and other elected officials, community leaders and members of the Link Construction Group on May 23, 2013 to mark the start of the reconstruction of the Hampton House, 4200 N.W. 27 Ave., Miami.
Last month, the Board of County Commissioners approved the competitive award of the Historic Hampton House Restoration project. The goal is to preserve all visual and tangible aspects of the historic two-story 22,000-square-foot building, while adapting it for use as a multi-use facility by the Brownsville community and adjacent neighborhoods. Work began in May, with substantial completion expected by November 2014.
"This community has patiently waited after years of dedication and hard work of some of our pioneers, to see the historic Hampton House Hotel come alive once again," Commissioner Edmonson said. "The renovations of this facility, closed since 1976, will allow us bring back memories about the hotel which once welcomed the great leaders of our society such as Dr. Martin Luther King and Malcolm X., where great African American performers played in the jazz lounge and where local activists and African-American Miamians could congregate without fear. We are here today to begin restoring not only a famous building but our collective memory and more importantly to build a facility which will be enjoyed and utilized by generations to come."