Commissioner Edmonson and Mayor Gimenez Re-Open Olinda Park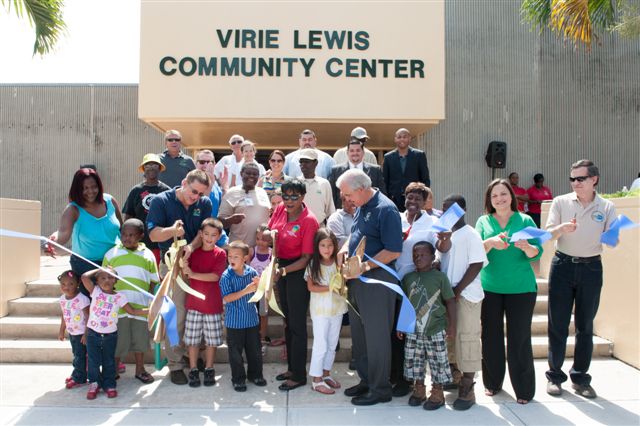 Photo by Ryan Halloway/Miami-Dade County Photographer
(Miami-Dade County, FL)- Commissioner Audrey M. Edmonson and Mayor Carlos Gimenez cut the ribbon on the newly refurbished Olinda Park, 2101 N.W. 51 St., Miami on June 8, 2013. Joined by staff from the Miami-Dade County Parks, Recreation and Open Spaces (PROS) and Public Works and Waste Management departments (PWWM), representatives from United Health Care, McGruff the Crime Watch Dog from Miami-Dade Crime Watchers, residents and local children, Commissioner Edmonson hailed the re-opening as "eagerly awaited and much welcomed."
"This project began as a response to a health issue by our Parks Dept.," Commissioner Edmonson said. "But we took the opportunity to make some changes so that the residents of this area, particularly the children, could benefit from a "new" park where they could play and exercise. This has been a collaborative project and I thank all the County personnel who contributed to making Olinda Park a recreational gem."
The park was closed for two years so that PWWM could remove contaminated soil and place a geo-synthetic liner filled with two plus feet of clean fill. PROS refurbished the park by installing new amenities such as a canopied playground, a fitness court, high-efficiency lighting, picnic tables and grills, new bleachers and play areas, among others, as well as making upgrades to the existing recreation center. Aging water and sewer lines were replaced and the irrigation and drainage systems were upgraded. The outdoor strength training and cardio exercise equipment includes a leg press, an abs-crunch and a sit-up bench, among other stations.