Commissioner Edmonson presents a key to the Prime Minister of the Bahamas, Hon. Perry Christie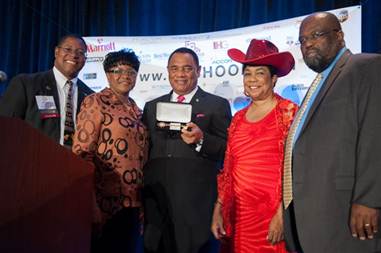 From left to right: Terry Butler, former director of the InterAmerican Development Bank (IDB); Commissioner Edmonson; Prime Minister Christie; Congresswoman Frederica Wilson and Andrew Ingraham,President and C.E.O. of the National Association of Black Hotel Owners, Operators and Developers (NABHOOD).
Photo By: Armando Rodriguez/Miami-Dade County
(Miami-Dade County, FL) -- Commissioner Audrey M. Edmonson presented a key to the County to Hon. Perry Christie, Prime Minister of The Bahamas, at the 17th annual International African American Hotel Ownership and Investment Summit and Trade Show held on July 26, 2013 at the Marriott Miami Biscayne Hotel in Miami. Commissioner Edmonson presented the key to Prime Minister Christie as Distinguished Visitor to Miami-Dade County.