Commissioner Edmonson held a press conference regarding the approval of variances in Overtown parcels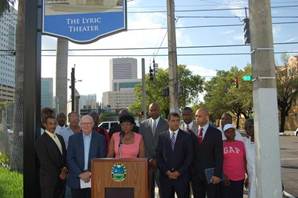 MIAMI, FL - Surrounded by members of the clergy, the developers and Overtown residents, Commissioner Audrey M. Edmonson announced today approval of developers for the long-vacant parcels in Overtown known as Sawyer's Walk. At a press conference held at the site of the historic Lyric Theatre, Commissioner Edmonson said an agreement had been reached on the County's approval of variances on the two properties which clears the way for the City of Miami to work with the developers.
The item championed by Commissioner Edmonson at the Oct. 22, 2013 meeting of the Board of County Commissioners (BCC) will ensure that the Community of Overtown, as well as the County, are protected. Then Commissioner was joined at the press conference by the developers, All Aboard Florida-Stations, Overtown Gateway Partners, and Gatehouse Development who will now work with the City of Miami Southeast Overtown and Park West Community Redevelopment Agency (SEOPW CRA) in negotiating an agreement.
"I strongly believe that the revised variances result in the best return to the County and Overtown residents, and provide assurance that long-awaited development on these parcels will start and be completed on time," Commissioner Edmonson said. "The original variance requests submitted by the CRA for Blocks 45 and 56 were unacceptable overall to me because I felt that they didn't sufficiently compensate the County for the right to develop the property and that they could potentially delay the projects longer.
"Therefore, for Blocks 45 and 56, I facilitated an increase from the original $2.75M to $5M up front monies for the County to be used solely for Overtown redevelopment and Overtown community development," Commissioner Edmonson said. "In addition, the County will receive $3 million over 10 years, between the developers, which will be invested in the Overtown community, based on recommendations from a Committee made up of community stakeholders. This will help to ensure that community benefit funds will be allocated appropriately. I required that the County retain oversight over these funds."
The proposed development will include more than 200,000 square feet of retail, a 150-room hotel, 1000 parking space, and 200 residential housing units, including affordable units. The terms approved by the County Commission include upfront payments to the City of $2.75 million and to the County of $5 million. The Commissioner also required contributions from the developers to a Community Benefits program, which will provide for $3 million over the next ten years for the Overtown community. This will result in over $8 million to the County for Overtown redevelopment and development projects. This will also ensure continued investment and job creation for the Overtown area and provide much-needed parking spaces for the Lyric Theater and the International Longshoremen's Association. The CRA will now need to approve the revised variances to the Settlement Agreement, and negotiate development agreements with each of the developers.
"I am proud and of what this means for the Overtown community. These developments will be the catalyst for a sustainable community where people can live, work and play. This joint effort between Miami-Dade County, the City of Miami and the CRA is long awaited. This is something we all can be excited about."