Commissioner Edmonson joins elected officials at the Seventh Avenue Transit Village groundbreaking ceremony
MIAMI, FL – After many years of championing the project, Commissioner Audrey M. Edmonson put a shovel in the ground on June 30, 2014 and kicked off construction of the long awaited Seventh Avenue Transit Village at N.W. 62 Street and 7 Avenue, in Miami. Commissioner Edmonson was joined by Miami-Dade County Mayor Carlos Gimenez, Miami-Dade County Transit Department Director Ysela Llort, members of the development team of Atlantic Pacific Communities, City of Miami representatives, residents, clergy and union workers.
The 7th Avenue Transit Village is a two-phase, transit oriented development located in the City of Miami on land owned by Miami Dade County.The project currently contemplates 76 rental units in a high-rise building. Common area features include a large gathering/community room, central laundry facility, gym/exercise room, and a computer center. In addition to the residential units, the project will include a community theatre and Miami Dade County Transit Hub. Construction is expected to be completed by fall of 2015 and move-ins by the end of 2015.
"The Seventh Avenue Transit Village was a Miami-Dade County Transit project that was years in the making even before I was elected to office," Commissioner Audrey M. Edmonson said. "It experienced some major set-backs to the point that it died on the drawing board. Today, I am so thrilled to finally see this long-awaited project come to fruition thanks to the tenacity of many people, both in and out of government. But I am even more ecstatic that we will keep a long-standing commitment to the community and give Liberty City a project that will serve as a major catalyst to economic development, affordable housing and cultural experiences, as we promised."
For more information, please contact Commissioner Edmonson's district office at 305-636-2331.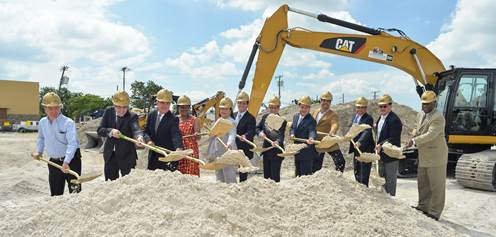 Miami-Dade County Mayor Carlos Gimenez to her right, Miami-Dade County Transit Department Director Ysela Llort to her left, as well as members of developers Atlantic Pacific Communities, community residents and members of the clergy.
Photos by: Armando Rodriguez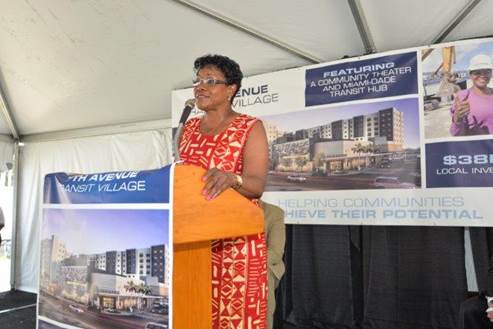 Commissioner Edmonson greets guests at the Seventh Avenue Transit Village groundbreaking