Commissioner Edmonson held her annual "One Bullet Kills the Party" press conference
MIAMI, FL – In preparation for the July 4th weekend, Miami-Dade Commissioner Audrey M. Edmonson and City of Miami Mayor Tomás Regalado held their annual pre-Independence Day "One Bullet Kills the Party" press conference and rally on Thursday, July 3, 2014, at Liberty Square Community Center, 6304 N.W. 14 Ave., in Miami. Commissioner Edmonson, Mayor Regalado, State Senator Dwight Bullard, Miami-Dade County Public Defender Carlos Martinez and members of the clergy and law enforcement again asked the public to refrain from engaging in celebratory gun fire during the July 4th celebrations. In addition, they pleaded with residents to seek an end to gun violence in general.
According to the Bureau of Alcohol, Tobacco, Firearms and Explosives (ATF), bullets shot into the air can climb two miles and then fall at a rate of 300 to 700 feet per second. Commissioner Edmonson participates in this public message prior to every Independence Day and New Year's Eve to warn residents of the dangers of celebratory gunfire.
For more information, please contact Commissioner Edmonson's district office at 305-636-2331.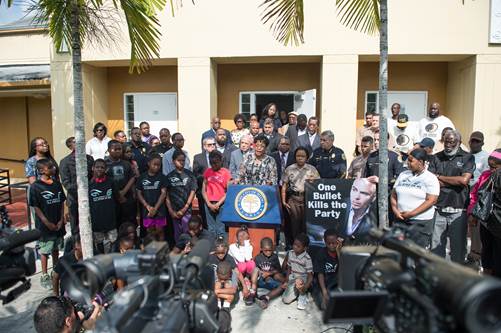 Photo by Armando Rodriguez/Miami-Dade County