Liberty Square revitalization announced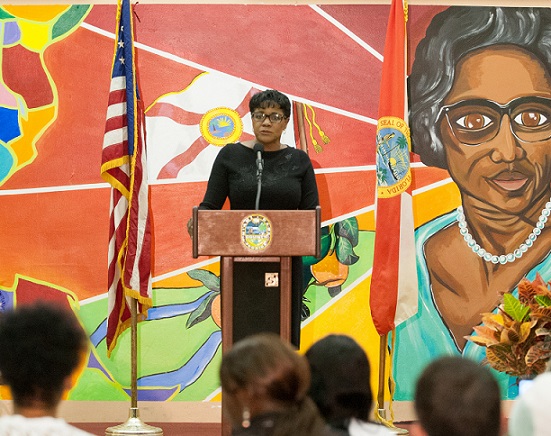 Commissioner Edmonson speaks at the event announcing the Liberty Square revitalization
(Photo by Armando Rodriguez / Miami-Dade County)
(MIAMI, FL) – Miami-Dade County Commissioner Audrey M. Edmonson joined Mayor Carlos Gimenez and community partners to announce plans for the revitalization of Liberty Square and Liberty City on Feb. 2 at the Liberty Square Community Center.
The revitalization of Liberty Square is a $74 million commitment to transform the public housing project and create jobs in the neighborhood. It is expected to create approximately 2,290 jobs and more than $285 million in economic output in the next four years. Mayor Gimenez's Employ Miami-Dade initiative will assist in providing employment training for residents before the development projects break ground in the beginning of 2016. The revitalization is the largest project the Department of Public Housing and Community Development has ever taken on.
The Liberty Square complex is currently compromised of 709 units and has approximately 2,000 residents.