Commissioner Edmonson helps inaugurate "Little Free Library"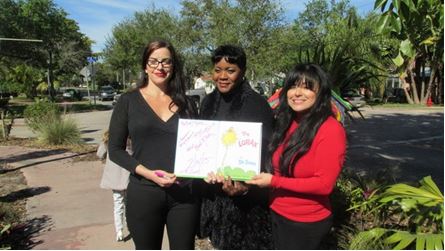 Nicole Soden, left, Commissioner Audrey Edmonson and El Portal Mayor Claudia Cubillos
(Photos by Gina Vargas/Commissioner Edmonson's Office)
(MIAMI, FL) – Miami-Dade County Commissioner Audrey Edmonson, a former mayor or El Portal, recently joined current Mayor Claudia Cubillos to inaugurate the "Little Free Library," a free lending library in front of El Portal Village Hall designed by artist Nicole Soden. Readers "check out" a book and from the colorful box-sized "library" and leave one behind. The "library" is never locked.