Commissioner Edmonson joins President Clinton at Day of Action in Liberty City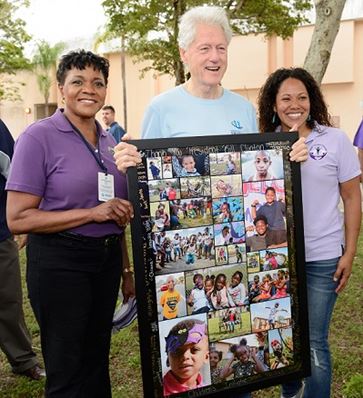 Commissioner Audrey M. Edmonson joins President Bill Clinton and MCI Executive Director Cecilia Gutierrez at a Day of Action community service project in Liberty City.
(Photos by Michael Fullana / Miami-Dade County)
(MIAMI, FL) – Miami-Dade County Commissioner Audrey M. Edmonson joined former President Bill Clinton, Chelsea Clinton, former Miami Heat star Shane Battier and University of Miami President Donna Shalala on March 8 at the eighth annual Clinton Global Initiative University (CGI U) meeting and Day of Action.
The CGI U meeting brought together more than 1,000 college students from around the world to the University of Miami from March 6-8. Many of them participated in a Day of Action community service project in Liberty City's "impact zone" in partnership with the Miami Children's Initiative. More than 700 CGI U students worked on neighborhood and school improvement projects ranging from urban agriculture to painting a basketball court at the Charles R. Drew K-8 Center.
Commissioner Edmonson is an ex-officio member of the Miami Children's Initiative and championed the program, which is modeled after the Harlem Children's Zone and is aimed at transforming Liberty City into a prosperous community by addressing the needs of children from cradle to adulthood.