Commissioner Edmonson marks construction of new housing project in Historic Overtown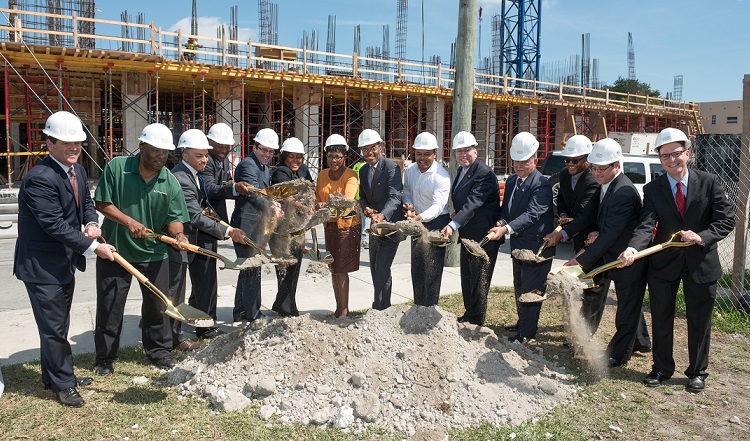 Commissioner Edmonson participates in shovel ceremony for Island Living housing project.
(Photos by Armando Rodriguez / Miami-Dade County)
(MIAMI) – Miami-Dade County Commissioner Audrey M. Edmonson joined City of Miami Commissioners Keon Hardemon and Willy Gort on March 18 at the shovel ceremony to mark the construction of Island Living, a new housing project currently being built in the heart of the Historic Overtown Commercial Corridor at 1201 NW 3rd Ave.
Island Living, a collaboration among Atlantic | Pacific Communities, Palmetto Homes, the Southeast Overtown/Park West Community Redevelopment Agency, Miami Dade County and Wells Fargo, will bring 70 one-, two- and three-bedroom affordable apartments with amenities to the Overtown community.
The development will consist of eight stories and 5,000 square feet of commercial space and will also feature pedestrian-friendly walkways, a playground area for children, green space and parking. At least 50 percent of the units will be dedicated to households with incomes which do not exceed 60 percent of the Area Median Income (AMI) of Miami-Dade County. The remaining units are dedicated to households which do not exceed 120 percent of the AMI.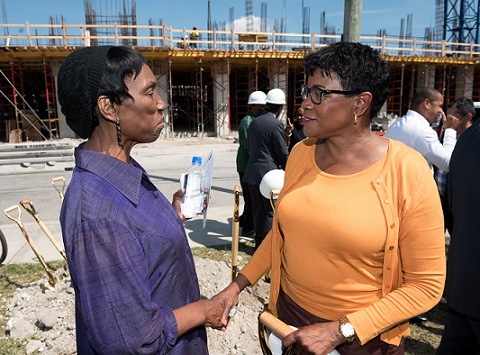 Commissioner Edmonson greets Ethel Bennet, owner of Reggae Café in Overtown, at the Island Living shovel ceremony.