Commissioner Edmonson confronts more illegal dumping during her monthly walk-through of Northwest 18th Avenue corridor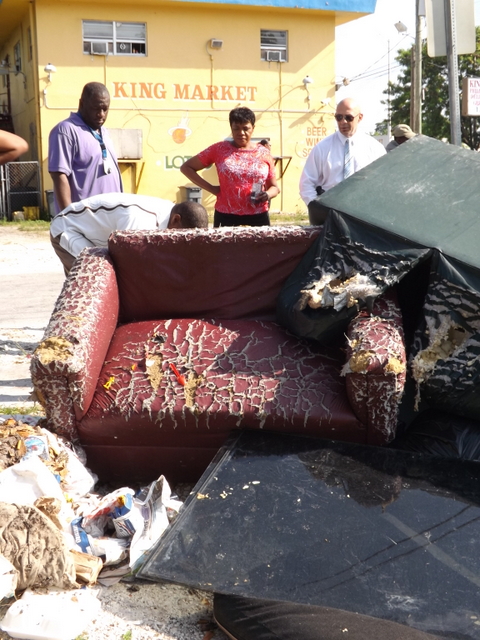 Commissioner Edmonson observes more illegal dumping during her monthly walk-through of the Northwest 18th Avenue corridor.
(Photos by Marta Martinez-Aleman / Commissioner Edmonson's office)
Photos by Marta Martinez-Aleman/Commissioner Edmonson's Office
(MIAMI, FL) – Miami-Dade County Commissioner Audrey Edmonson again was confronted with illegal dumping during her monthly walk-through of the Northwest 18th Avenue corridor between 62nd and 71st streets in Liberty City on March 25, 2015.
Despite clear postings that "NO DUMPING" is permitted, empty lots continue to be used as dumps for garbage, furniture, debris, construction material and empty boxes.
"It's very disappointing to see this type of activity still going on," Commissioner Edmonson said. "I urge residents to be on the lookout for illegal dumping and report it right away so we can catch the perpetrators."
Commissioner Edmonson was joined by Miami-Dade County Police officers, the Code Enforcement Department, the Public Works and Waste Management Department, local business owners and members of the Northwest 18th Avenue chapter of the Elks Lodge. Assisting in the clean-up were members of the Greater Miami Service Corps. The walk-throughs are designed to give Commissioner Edmonson the opportunity to meet with residents and merchants to discuss neighborhood concerns, clean up litter and crack down on negligent property owners, particularly of vacant lots with garbage or overgrown grass.