Commissioner Edmonson cuts ribbon on new Culmer playground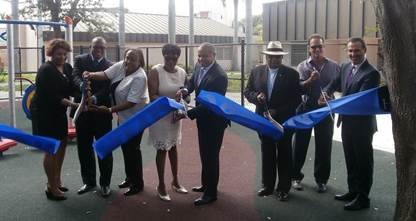 (Photo by Akeem Brutus / Commissioner Edmonson's office)
(MIAMI) – County Commissioner Audrey Edmonson and City Commissioner Keon Hardemon, center, cut the ribbon Nov. 4, 2015 on the new children's playground for the Head Start program at the Culmer Neighborhood Center in Overtown.
They were joined , from left to right, by Marie Bell of the Office of County Mayor Carlos Gimenez, Southeast Overtown Park West CRA Executive Director Clarence E. Woods, Housing Finance Authority Executive Director Cheree Gulley, Father Richard Marquess-Barry of St. Agnes Episcopal Church, Mourning Family Foundation Board member Allen Furst, and Housing Trust Group President and CEO Matthew Rieger.
The playground was the result of a request made by the Overtown community to the Foundation and Housing Trust Group to replace the former playground at the Center. The Foundation and the Housing Trust Group – in collaboration with the County, the City and the Housing Finance Authority – are building the Courtside Family Apartments affordable housing project directly adjacent to the Culmer Center. Phase I will be completed in August 2016.