Vice Chairwoman Edmonson rededicates Little River Library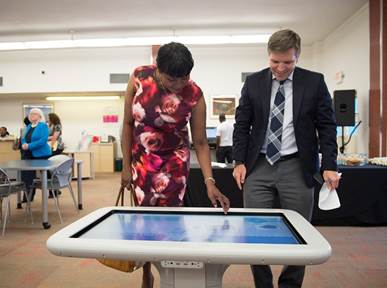 Vice Chairwoman Audrey M. Edmonson and Miami-Dade Public Library Director Ray Baker check out the new SMART Table in the children's area of the refurbished Little River Library branch. (Photos by Armando Rodriguez / Miami-Dade County)


MIAMI – Miami-Dade County Commission Vice Chairwoman Audrey M. Edmonson rededicated the Little River Library on June 13, 2017 to celebrate the "sprucing up" of the branch located at 160 NE 79th St., Miami.
The rededication ceremony marks the completion of renovations/improvements made to the library which include new furniture, landscaping, flooring (both carpet and tile), remodeled/updated bathrooms (tiles were donated by Ofer Mizrahi and Miami Ironside), new computers and a new SMART Table in the children's area.
The Little River Branch Library opened its doors on June 17, 1942 and offers desktop computers, SurfacePro3 tablets, a SMART Table, wireless printing and free Wi-Fi. It is home to a wide selection of materials (books, DVDs, etc.), many of which reflect the interests of the surrounding Haitian community, and offers an array of programs for children and adults including story times, games and computer skills training.
"They say that good things come in small packages, and I think that description fits the new Little River Library," Vice Chairwoman Edmonson said. "This branch has been serving the community for 75 years, offering children and adults a place to read and think and connect with the world. It was about time it got a little sprucing up."