Commissioner Sally Heyman participates in Safe and Secure Counties Symposium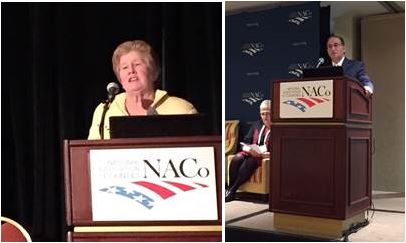 Commissioner Sally Heyman, at left, and Judge Steve Leifman speak at the National Association of Counties' Safe and Secure Counties Symposium in Colorado.
(MIAMI, FL) – Miami-Dade County Commissioner Sally A. Heyman, District 4, Chair of Justice and Public Safety (JPS) for the National Association of Counties (NACo), participated in the Safe and Secure Counties Symposium held in Colorado with over 200 officials from counties nationwide.
Meeting on managing justice systems and facilitating emergency management responses, Commissioner Heyman was joined by Miami-Dade County Administrative Judge Steve Leifman. Together they presented best practices addressing issues of mental health and mental illness here in Miami-Dade County and legislation they are championing in the state of Florida.
Additionally, Commissioner Heyman addressed two federal bills significant to Miami-Dade and counties nationwide. Commissioner Heyman and her JPS Committee submitted language to the U.S. Senate sponsors important to our courts, jails and hospitals in dealing with our large population of people with health issues including substance abuse and insurance coverage for people who are incarcerated. The language has been incorporated into the legislation.
"These two bills have a significant impact to our Miami-Dade Criminal Justice System and every corrections facility in the United States," Commissioner Heyman said. "With the prevalence of substance abuse and mental illness, the federal government needs to step up with resources to help us address this problem."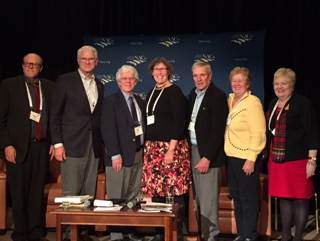 Commissioner Heyman, second from right, with members of the National Association of Counties' Safe and Secure Group.