Commissioner Sally Heyman lectures at Models for Change Conference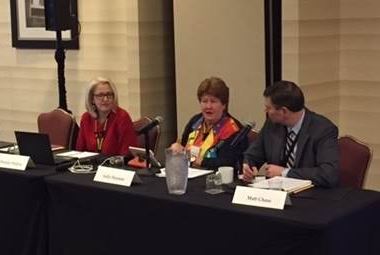 Commissioner Sally Heyman, center, speaks at the Models for Change National Working Conference.
(MIAMI, FL) – Miami-Dade County Commissioner Sally A. Heyman, District 4, lectured and participated in the Models for Change National Working Conference sponsored by the MacArthur Foundation, supported by the Coalition for Juvenile Justice.
Commissioner Heyman, a former Florida State Representative, worked with her then Miami-Dade County Director of Juvenile Services Wansley Walters on a pilot program for Miami-Dade in the late 1990s and early 2000s. That effort became a model for saving thousands of children and millions of dollars in Miami-Dade County. Subsequently, in 2006, that program that was working in Miami-Dade County was expanded statewide by Walters, now Florida Director of Juvenile Justice.
Earlier this month, at the invitation of the MacArthur Foundation, Commissioner Heyman and Wansley Walters once again joined forces and presented the Miami-Dade County "Expanded Model of Juvenile Civil Citations" to hundreds of multidisciplinary practitioners and criminal justice stakeholders from across the country. Their collaboration on a County pilot program and concept of "apprehend and assess" was expanded even further based on a decade of data that measured significant success.
"We have become a nation of over-criminalization and over-incarceration," Commissioner Heyman said. "It is time we stop the practice of arresting all juveniles and limit it to those who pose a danger. That will allow us to redirect resources to help children who make mistakes with treatment and properly fund community-based organizations that will help, treat and train our youth."