Email: [email protected]
Downtown Office
305-375-5696 Phone
305-372-6090 Fax
District Office
305-267-6377 Phone
305-372-6090 Fax
Last Visited »
Hurricane Irma
As we continue our recovery and cleanup efforts, please visit the Emergency website for the latest information on openings and closings in Miami-Dade County.
About Commissioner Rebeca Sosa
Rebeca Sosa has served on the Miami-Dade County Commission as District 6 commissioner since June 2001. She has been re-elected four times - most recently in 2014 without opposition- to represent the residents of the City of Miami, Coral Gables, West Miami, Hialeah and Miami Springs and the unincorporated communities of Schenley Park, Coral Villas, Red Bird, Coral Terrace, Little Gables and Fontainebleau.
On Nov. 20, 2012, she was elected by her colleagues as Chairwoman of the County Commission where she served a two-year term. During her chairmanship, Commissioner Sosa made it a priority to bring government closer to the people and led the effort to hold a County Commission meeting in South Dade at the South Miami-Dade Cultural Arts Center. This would be the first, and only instance to date, of Commissioners holding their official meeting outside of County Hall.
The Miami Herald Editorial Board had the following assessment of Commissioner Sosa's tenure as Chairwoman:
"We give a tip of the hat to Rebeca Sosa, who is ending her stint as chair. She did an excellent job as the commission leader, seeking harmony and bringing decorum and order to board meetings, which in the past had lapsed into late-night imbroglios.
Ms. Sosa led with a firm but friendly hand. She was the epitome of kindness to even the most troublesome public speaker who came in front of the commission. She was never anything but courteous and cognizant that the commission serves at the pleasure of the residents of Miami-Dade. Job well done, Ms. Sosa.
We hope the board will maintain her momentum and work effectively for the welfare and progress of this community — one of the most dynamic in the nation."
As Chairwoman, Commissioner Sosa put environmental concerns at the forefront to tackle the issue of Sea Level Rise. Through her leadership, a Sea Level Rise Taskforce was created and their recommendations were proffered to the Board of County Commissioners for adoption. These recommendations form the foundation for Miami-Dade's response to Sea Level Rise.
Commissioner Sosa was born in Camaguey, Cuba. She received her Bachelor Degree in Secondary Education from the University of Puerto Rico and a Bachelor Degree in Elementary Education from Saint Thomas University where she graduated Summa Cum Laude. She holds certifications both in elementary education and as an instructor for English for Speakers of Other Languages (ESOL). Commissioner Sosa has been an educator for more than 30 years and is currently a teacher-trainer for Miami-Dade County Public Schools.
Prior to joining Miami-Dade County, Commissioner Sosa served as mayor of the City of West Miami from 1994 to 2001 where her leadership resulted in the city's recovery from a 52 percent budget deficit, thus removing it from the Governor's Emergency List. During her tenure, she was able to secure more than $5 million in grants for the City for capital improvement projects as well as improvements to its drainage and parks systems.
Sadly, Commissioner Sosa lost her beloved husband Armando Sosa in 2017 after a difficult a battle with cancer. She is the proud mother of Armando, Jr. and Veronica, and grandmother to Alexander and Giuiliana.
Fighting for you!
Commissioner Sosa's recent legislative accomplishments:
Helped secure funding
The Miami Springs Recreational Center.
The Rebeca Sosa Multipurpose facility in the City of West Miami, named by the City Commission in appreciation of Commissioner Sosa's distinguished career in public service.
The Villa Alegria senior housing facility in Hialeah.
The West End Community Center in the City of Miami.
The Antonio Maceo Community Center in the City of Miami.
The Sandra Delucca Center for persons with developmental disabilities in the City of Miami.
Commissioner Sosa is currently working on:
Bringing a Jackson Health Center to her district.
Partnering with the City of Coral Gables to build a center for individuals with autism.
Funding a new senior center for the resident of Miami Springs
Funding renovations for the Dr. Armando Badia Senior Center
Leadership
Commissioner Sosa is currently serving as Chairwoman of the Economic Development and Tourism Committee, which is responsible for oversight of vital economic engines and economic development opportunities for Miami-Dade County, including Miami International Airport, the County's general aviation airports, and PortMiami. She is also the Vice Chair of the Government Operations Committee, which is responsible for oversight of Miami-Dade County's financial, operational, and planning functions.
Commissioner Sosa served as Chair of the Miami-Dade County Economic Development and Social Services Committee, which is responsible for providing oversight and guidance to those departments and agencies charged with promoting economic development and revitalization, encouraging public-private partnerships while attracting businesses to Miami-Dade County.
Commissioner Sosa served as Chair of the Miami-Dade County Performance and Efficiency Committee. She was tasked with identifying inefficiencies in departmental operations and recommending processes to improve customer service.
Commissioner Sosa served as Chair of the State Intergovernmental Affairs Subcommittee, which has oversight over all aspects of the County's state legislative agenda. Commissioner Sosa served as Vice-Chair of the Health and Public Safety Committee, which oversees matters relating to the health, protection and safety of County residents. She is also a member of the Airport and Tourism and Budget and Finance Committees as well as the Metropolitan Planning Organization (MPO).
Commissioner Sosa served as Chair of the Procurement Management Policy Subcommittee, where she was responsible for many positive initiatives including new procedures to ensure that County Departments monitor contracts within their jurisdiction, mandatory ethics training for all procurement department employees, a standard process for evaluating the work of construction contractors and consultants during and after a project completion, and a tracking system that will red-flag any company that has not lived up to its contractual obligations.
Commissioner Sosa served as chair the Community Outreach, Safety & Healthcare Administration (COSHA) Committee and was a member of the Regional Transportation Committee and the Internal Management & Fiscal Responsibility Committee.
Accomplishments
Since joining the Miami-Dade County Board of County Commissioners, Commissioner Sosa has:
Spearheaded direct flights between Miami International Airport (MIA) and Tenerife, Canary Islands, Spain, in a partnership with government officials from the Canary Islands and AirEurope. This has resulted in four additional flights between Miami International Airport (MIA) and Madrid, Spain.
Been appointed to the South Florida Regional Planning Council, whose mission is to identify the long-term challenges and opportunities facing Southeast Florida and assist the region's leaders in developing and implementing creative strategies that result in more prosperous and equitable communities, a healthier and cleaner environment, and a more vibrant economy.
Presented checks totaling $6.151 million from the District 6 General Obligation Bonds toward the construction of multi-purpose facilities in the cities of Miami, Miami Springs, and West Miami.
Been a leader in the prevention of elder abuse and neglect, including by sponsoring a resolution authorizing the County Manager to form what would become the Elder Abuse Task Force to make recommendations to the Board of County Commissioners on issues addressing the detection and prevention of elder abuse and/or neglect in Assisted Living Facilities, nursing homes, convalescent homes or other facilities that house or care for the elderly in Miami-Dade County.
Been presented with the "Government & Law" award at the 21st annual In the Company of Women Award Ceremony for her proven leadership, creativity and vision in addressing community issues in Miami-Dade County.
Back to Top
Page Last Edited: Fri Jun 22, 2018 2:30:22 PM
district06
Rebeca Sosa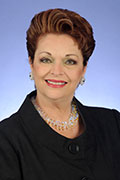 You are now leaving the official website of Miami-Dade County government. Please be aware that when you exit this site, you are no longer protected by our privacy or security policies. Miami-Dade County is not responsible for the content provided on linked sites. The provision of links to these external sites does not constitute an endorsement.

Please click 'OK' to be sent to the new site, or Click 'Cancel' to go back.