(MIAMI) – More than 20 local Hispanic artists representing different nationalities will be displaying their works this Friday at the 14th annual Hispanic Art Expressions Exhibit's opening reception, hosted by Miami-Dade County Commission Chairwoman Rebeca Sosa and Miami-Dade's Hispanic Affairs Advisory Board.
The event, which kicks off the County's celebrations of Hispanic Heritage Month and is free and open to the public, will take place on Friday, Sept. 20 from 7 to 10:30 p.m. at the Miami International Airport VIP Consular Lounge, Concourse F, 1640 NW 42nd Ave. Hors d'oeuvres will be served. Parking is free for guests at the Flamingo Garage.
Jose M. Acosta, Bibiana Cervantes and Brigida Guardiola will be among the artists displaying their art works, which will also be available for purchase.
Hispanic Art Expressions Exhibit runs through Nov. 1 and travels to various sites throughout the County. This year is the first time the opening event will be held at the airport.
"Since 2000, the Hispanic Art Expressions Exhibit has been raising awareness about art's important place in Latin culture by showcasing the tremendous talent and diversity of Miami-Dade's Hispanic artists," Chairwoman Sosa said. "By displaying works that depict the cultures and traditions of the many different nationalities that make up the Hispanic community, this exhibit also helps residents better understand their own and each other's roots. I can think of no better way to celebrate Hispanic Heritage Month in this 500th anniversary year of Ponce de Leon's discovery of Florida."
In addition to Miami-Dade County and its Office of Community Advocacy and Hispanic Affairs Advisory Board, sponsors of this year's event include Miami International Airport, Baptist Health South Florida, the Cuba Ocho Art and Research Center, The Art Experience, Ron Abuelo Panama, New Century International and Varela Imports, Inc.
For more information, contact Natalie Milian at 305-375-5098 or nmilian@miamidade.gov.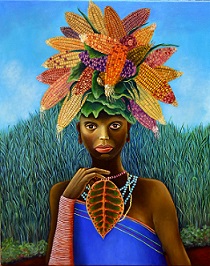 Brigida Guardiola's "Save the Forest" will be among the works on display at the Hispanic Art Expressions Exhibit