(MIAMI-DADE COUNTY, FL) - Miami-Dade residents opened up their hearts and their homes to over 15 dogs at County Commission Chairwoman Rebeca Sosa's Home for Every Holiday pet adoption event on December 7 at the Mall of the Americas.
"I'm thrilled that we were able to find loving homes for each and every pet at the event," Chairwoman Sosa said. "I want to thank Miami-Dade County Animal Services and everyone who adopted one of these wonderful animals for giving them the gift of life this Christmas season."
Residents interested in adopting a shelter pet are encouraged to call Miami-Dade County Animal Services at 305-884-1101 or visit the County shelter at 7401 NW 74th Street in Miami.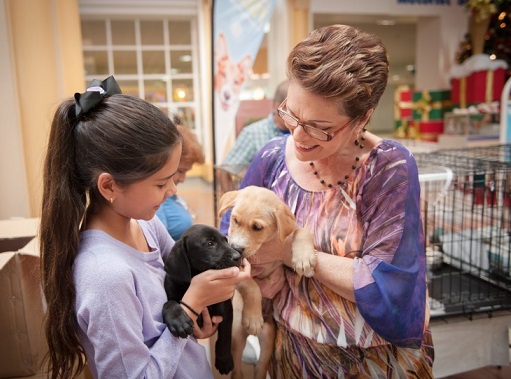 Chairwoman Sosa and a child share a special bond with two of the dogs adopted at the Dec. 7 pet adoption event.
(Photos by Ryan Holloway / Miami-Dade County photographer)