Chairwoman Rebeca Sosa provides toys to over 500 children from District 6
(MIAMI-DADE COUNTY, FL) – Hundreds of underprivileged children got an early visit from Santa Claus at Chairwoman Rebeca Sosa's 6th annual District 6 Toy Drive on Friday, Dec. 13.
More than 500 children received brand-new toys and dolls as part of the annual event designed to bring the joy of Christmas to children from local low-income families.
"It was wonderful to see the smiles on so many children's faces as they opened their presents, and it's such a blessing to know we made their Christmas special," Chairwoman Sosa said. "I want to thank the Miami-Dade County Police Explorers Post 513, Miami-Dade Fire Department Station 40 and sponsors for their generous support in ensuring that so many underprivileged children were able to receive gifts this holiday season."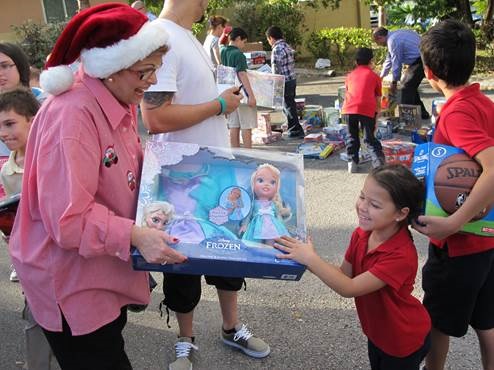 Chairwoman Sosa presents a delighted young girl with a new doll at the 6th annual District 6 Toy Drive.