Commissioner Sosa recognized by the South Florida Hispanic Chamber of Commerce as Woman of the Year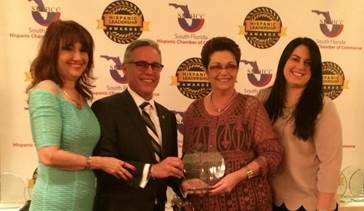 From left to right: South Florida Hispanic Chamber of Commerce Co-founder Liliam López, Chairman Felipe Basulto, Commissioner Rebeca Sosa, and Veronica Sosa
(MIAMI-DADE COUNTY) – On Friday, March 20th, 2015 the South Florida Hispanic Chamber of Commerce celebrated its annual Hispanic Leadership Awards Luncheon during which Miami-Dade County Commissioner Rebeca Sosa was recognized as Woman of the Year.
"I am honored that the South Florida Hispanic Chamber of Commerce selected me out of so many esteemed business leaders and public servants as their Woman of the Year," expressed Commissioner Sosa. "I dedicate this award to all the young girls who will rise to be the future leaders of our community. I hope our work inspires them."
Commissioner Sosa served as the first Hispanic Chairwoman of the Board of County Commissioners during a two-year term that ended on December 31, 2014. The period was hallmarked by an elevated level of decorum among the Board and, most importantly, an unprecedented openness and accessibility to the public.
Legislation of lasting impact to Miami-Dade County was advanced during Commissioner Sosa's term as Chairwoman, among those, seven sea-level rise resolutions aimed at implementing the appropriate measures to protect drainage infrastructure, save endangered beaches & coastal natural areas, and prevent the intrusion of saltwater into the Biscayne Aquifer and farmlands. Commissioner Sosa has also sponsored legislation supporting the Dynamic Student Loan Repayment Act, incentives for the film and television industry, and a fair share of state revenue for local governments including Miami-Dade County.
The South Florida Hispanic Chamber of Commerce was founded in 1994 with the mission of promoting the continued growth and development of the Hispanic business community and advocating for minority owned businesses.