Commissioner Daniella Levine Cava and Mayor Carlos Gimenez hold Homes for All Pets Summit, identify solutions to animal well-being challenges
Miami, FL— Today, Commissioner Daniella Levine Cava and Mayor Carlos Gimenez hosted the Homes for All Pets Summit at PortMiami to discuss challenges and find creative ways to continue working towards the County's no-kill goal and to find homes for all our pets. 200 participants, including animal rescue and protection groups, community leaders, concerned citizens and elected officials, discussed the following topics: the progress we have made on animal welfare, the health and safety of animals in Miami-Dade and strategies to increase public awareness on this issue. Dr. Julie Levy, Director of Maddie's Shelter Medicine Program at the University of Florida was the keynote speaker.

"500 animals are abandoned at the Animal Services Department every week. Much progress has been made; we have a terrific plan and we have made additional investments in programs and partnerships. But we cannot fully implement our plan without more volunteers, more partners, more funds for our programming We are here today to work together to find solutions," Commissioner Levine Cava said during her opening remarks.

In order to encourage a solutions focused and proactive workshop, participants came together in small group discussions that rotated throughout the day. Ideas and recommendations shared throughout the summit were consolidated and will be used to identify innovative ways to close the current gaps in the animal welfare system as the County continues working towards its no-kill, adoption and animal safety goals.

Dr. Levy kicked off the morning with a presentation on the progress made by the Animal Services Department compared to the rest of the state: "Miami-Dade has many innovative programs in place and is far ahead of many other metro areas in Florida, like fostering underage kittens and numerous partnerships with rescue and veterinary groups. However, intake has not declined and the community needs to find ways to tackle this issue through programs that make maximum use of limited resources and offer the most bang for your buck," she suggested.

"I would like to thank Dr. Levy for coming to Miami-Dade and speaking to our community about best practices and ways we can improve our animal services. I would also like to thank the many municipalities who attended and co-sponsored the summit. All our Miami-Dade communities face the same animal well-being challenges and we can solve these issues quickly and efficiently through increased collaboration and communication. A special thanks to Mayor Carlos Gimenez and his staff for co-hosting today's events and for their dedicated service to our community and our pets," said Commissioner Levine Cava.

Mayor Gimenez spoke about the many inroads made at the Animal Services Department and thanked the Department for their help in organizing the summit: "I thank Commissioner Levine Cava and Animal Services Director Alex Muñoz for their hard work in putting this important event for Miami-Dade together."

The ideas discussed at the summit will be consolidated and sent to the event attendees. Commissioner Levine Cava spoke of the many ways that residents could get involved and stay engaged in constructive solutions.

"It gives me much hope that so many concerned residents are interested and engaged in finding solutions. I urge all community members to contact their Commissioner and find ways that they can get involved through volunteering. The Animal Services Department offers several volunteering programs at www.miamidade.gov/animals. I also encourage all residents to attend the County budget hearings on September 3rd and 17th at 5:01 p.m. at the Stephen P. Clark Center so that they can express their budgetary priorities to the Commission and the Administration," explained the Commissioner.

Broadcasts from the summit are available on Periscope through @dlcava and highlights can be seen on Twitter (@dlcava), Facebook (/CommissionerCava) and Instagram (@dlcava).

Sponsors: PortMiami, City of Miami Beach, Village of Pinecrest, City of Coral Gables, City of Doral, City of South Miami, City of Sunny Isles Beach, City of Hialeah, North Bay Village, City of Homestead, City of Miami Springs, Village of Virginia Gardens, City of Miami, City of North Miami, Town of Cutler Bay, Town of Bay Harbor Islands, City of Opa-Locka, Village of Palmetto Bay and Village of El Portal. Special thanks to Fare to Remember Creative Catering for providing an animal friendly, no meat meal.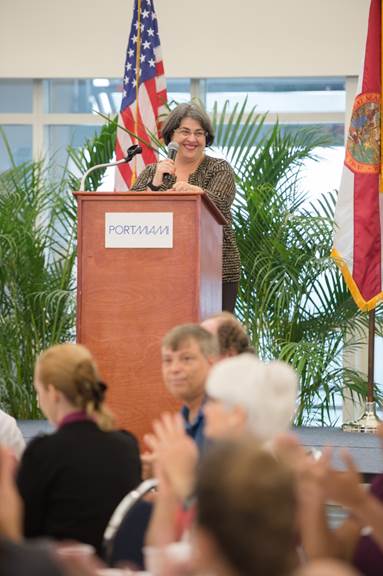 Commissioner Levine Cava greets attendees at the Homes for All Pets Summit.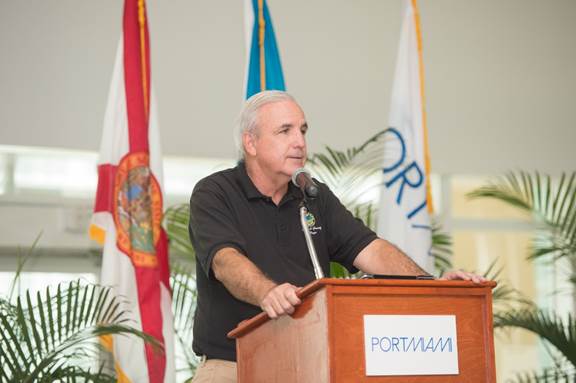 Mayor Gimenez spoke of the advances in the Animal Service Department and his rescue dog, Beemer.
Dr. Julie Levy of the University of Florida presented on best practices and possible solutions.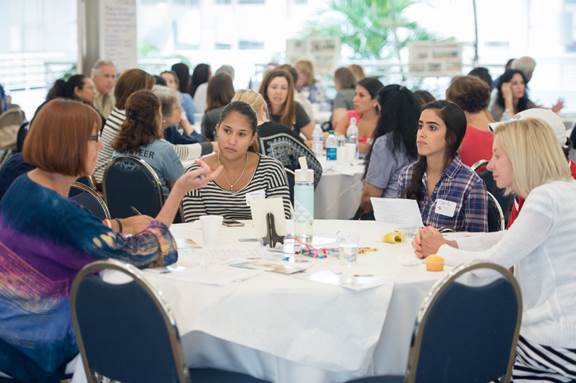 Participants discussed two major topics: animal safety and increasing public awareness.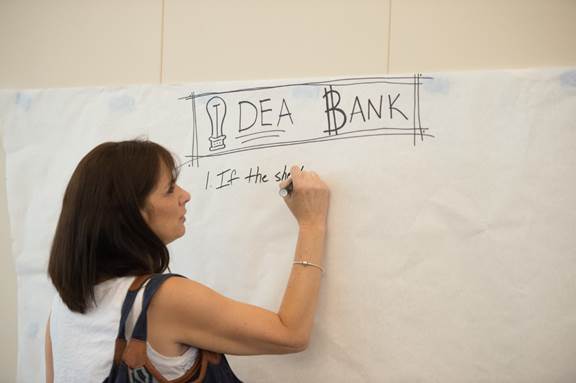 An idea bank gave attendees the opportunity to brainstorm and make last minute recommendations.