NASCAR comes to Homestead-Miami Speedway; Commissioner Daniella Levine Cava promotes economic prosperity in South Dade and honors veterans
***Photo at end of release***
This weekend, the NASCAR Ford Championship came to Miami-Dade County at the Homestead-Miami Speedway. The event has been held in Homestead for 14 years and is an important economic development driver for the region. Commissioner Daniella Levine Cava attended races on Saturday and commented on the importance of the Speedway and the NASCAR Championship.
"The Speedway is one of the many unique and family-friendly locations in South Dade. It helped revitalize our community after Hurricane Andrew and is currently a major prosperity engine in Homestead. I am excited to be here today and proud that an international event like NASCAR has chosen South Dade as one of its venues," said the Commissioner.
The Commissioner attended the event with the Veterans of Foreign Wars Arrant-Smith Post 4127. The VFW celebrated their 70th anniversary this year and the Office of Commissioner Levine Cava officially proclaimed a portion of S.E. 6th Avenue as VFW Arrant-Smith Post 4127 Avenue. The Commissioner explained that: "Honoring the VFW was a modest gesture relative to the sacrifices made by our veterans to protect our way of life."
The Speedway opened in 1995 as an economic recovery strategy in the aftermath of Hurricane Andrew. It features a 1.5-mile oval and 2.21-mile road course and generates more than $250 million annually for the region. This year's NASCAR event will be broadcast to over 200 countries in 24 languages over television and radio.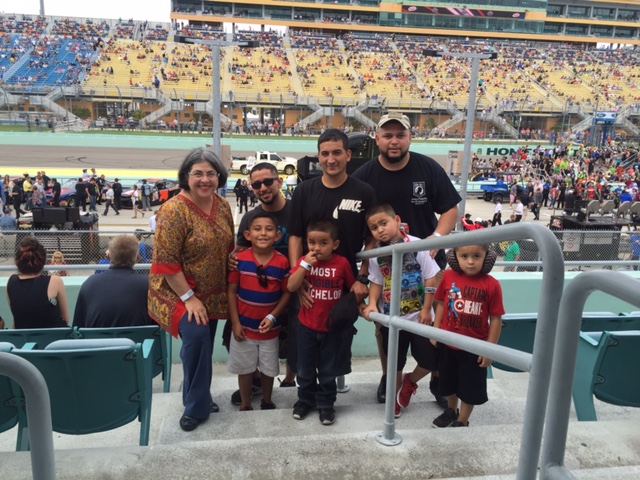 Commissioner Levine Cava at the races with the Veterans of Foreign Wars Arrant-Smith Post 4127