National Parks partners kick-off centennial celebration at Miami International Airport
Commissioners Daniella Levine Cava and Dennis C. Moss joined in the launch of the 100th anniversary celebration of the National Parks System at Miami International Airport today. Miami-Dade County is the only metropolitan area in the United States that is home to three national parks: Everglades National Park, Biscayne National Park and Big Cypress National Preserve. Commissioner Levine Cava expressed how important the National Parks and their ecosystems are to all of South Florida:

"We are truly blessed to have three magnificent national parks in our county. The parks bring millions of tourists to Miami-Dade annually and offer a magical refuge for our residents. Our very existence depends on the water flowing through the Everglades. One year ago last week, right before I was sworn in as Commissioner, I took a memorable 5-day canoe trek through the Everglades to highlight the importance of this National treasure to our life here in Miami-Dade. Our National Parks are the life-blood of our county."
Commissioner Dennis C. Moss, whose district includes both Everglades and Biscayne National Parks, also joined in the celebration: "The National Park System is a common thread that ties communities together across the country," said Commissioner Moss. "I join the National Park Service in encouraging you to "find your park" and enjoy that place that is perfect for family fun and recreation."

In honor of the centennial, Miami-Dade County, the City of Homestead, Everglades and Biscayne National Parks, the Everglades Association, and the Greater Miami Convention and Visitors Bureau have partnered to develop a local marketing strategy for our South Florida National Parks through visual and informational displays, artwork by Clyde Butcher, and TV advertisements at Miami International Airport during this busy travel season. "I was very proud to partner with the City of Homestead on this initiative and am grateful to the Aviation Department for their enthusiastic embrace of this effort," said Commissioner Levine Cava.
There will also be advertising on Metrorail to showcase the free Everglades and Biscayne Park Trolley service operated by the City of Homestead funded through a portion of their ½-penny transportation funding. "The Homestead National Park Trolley service is a wonderful way to connect to these treasures without having to even drive to get there," said Commissioner Levine Cava. "I am sure that this project will help to ensure that the millions of passengers that pass through our airport will make a trip to Homestead and our National Parks a 'must see'."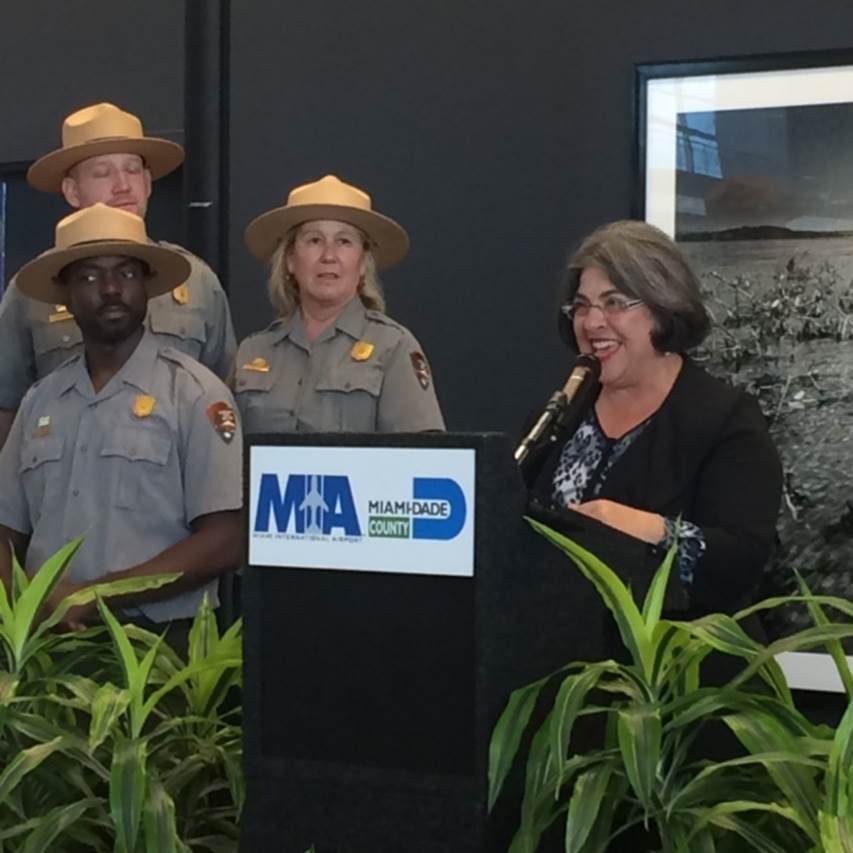 Commissioner Levine Cava addresses the crowd during the centennial celebration kick-off.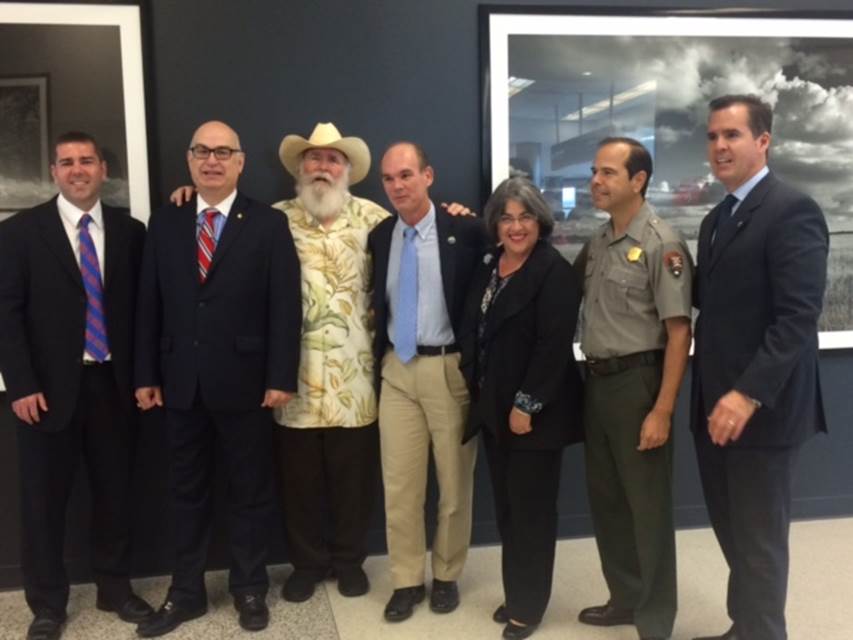 L-R: Homestead Councilman Stephen Shelley, MIA Director Emilio Gonzalez, Clyde Butcher, Palmetto Bay Mayor Eugene Flinn, Commissioner Daniella Levine Cava, Everglades and Dry Tortugas National Parks Superintendent Pedro Ramos and Vice President of Marketing and Tourism for GMCVB Rolando Aedo.