Commissioner Daniella Levine Cava receives the Presidential Advocacy Award for going above and beyond during 2016 Legislative Session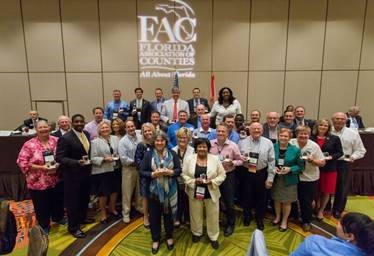 (MIAMI, FL) – On June 30, the Florida Association of Counties (FAC) presented Miami-Dade County Commissioner Levine Cava with the Presidential Advocacy Award during the 2016 FAC Annual Conference & Exposition in Orange County, Florida.
"Working with FAC in Tallahassee has meant we have more muscle on some key issues," said Commissioner Levine Cava. "I was able to play a key role in the successful fight against fracking legislation that put our water supply at risk with unidentified chemicals and byproducts."
As Chair of the FAC Growth Management, Agriculture & Environment Committee, Commissioner Levine Cava's leadership and commitment to crafting sound policy was an invaluable asset to FAC this year in advancing the Associations legislative program during a challenging legislative session.
"Commissioner Levine Cava's willingness to advocate for counties was not only essential to the success of FAC's legislative efforts, but it was also of great service to the citizens of Miami-Dade County," said FAC Executive Director Scott Shalley. "The Commissioner's advocacy was invaluable in helping ensure that local governments are provided the flexibility and tools they need to meet the needs of Florida's citizens."
The Presidential Advocacy Award is given annually to those county commissioners from around the state who have shown exceptional leadership in partnering with FAC to advance the counties' legislative agenda. This year, Miami-Dade County Commissioners Audrey M. Edmonson and Sally A. Heyman also received the Presidential Advocacy Award.
For 85 years, the Florida Association of Counties has represented the diverse interests of Florida's counties, emphasizing the importance of protecting home rule – the concept that government closest to the people governs best. The Florida Association of Counties helps counties effectively serve and represent Floridians by strengthening and preserving county home rule through advocacy, education and collaboration.