Board of County Commissioners Approve Land Transfer to National Park Service, Advancing Everglades Restoration
Today, the Board of County Commissioners approved an item sponsored by Commissioner Daniella Levine Cava conveying county-owned land north of Black Point Marina to the National Park Service. The nearly 45 acres of land will be used to restore natural water flows to Biscayne Bay as part of the Everglades Restoration Plan.
"Approving this item is a fitting way to celebrate the centennial of our National Parks System, which turns 100 on August 25, 2016," said Commissioner Levine Cava. "We are ensuring that Biscayne National Park is preserved for future generations."
The Board of County Commissioners also presented proclamations to the superintendents of Biscayne National Park and Everglades National Park commemorating the National Park Service anniversary.
The land conveyed to the National Park Service is part of the Biscayne Bay Coastal Wetlands project of the Comprehensive Everglades Restoration Plan and will ensure fresh water flows into Biscayne Bay in order to keep salinity at natural levels. Biscayne Bay Coastal Wetlands is important to South Florida's ability to adapt to sea level rise by protecting our aquifer from salt water intrusion.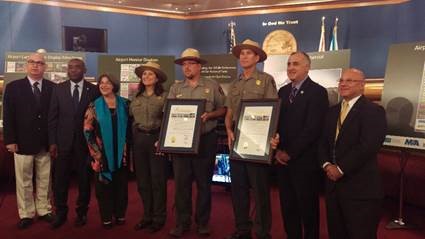 Commissioners Monestime, Levine Cava and Bovo present proclamations to Biscayne Nationa Park and Everglades Park.