Commissioner Cava in partnership with Rebuilding Together Miami-Dade provides critical home repairs in Leisure City for National Rebuilding Day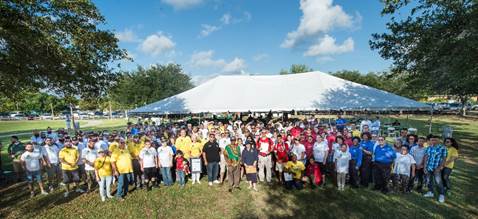 Commissioner Cava joins Rebuilding Together Miami-Dade and over 300 volunteers at Live Like Bella Park in Leisure City for National Rebuilding Day 2017 kick-off.
(Photos by Ryan Holloway / Miami-Dade County)
MIAMI-DADE – On Saturday, April 29th, Miami-Dade County Commissioner Daniella Levine Cava teamed up with Rebuilding Together Miami-Dade to sponsor and successfully deliver National Rebuilding Day 2017 in South Dade. Over 300 volunteers answered the call to service and came together early Saturday morning to make critical repairs and improvements to 16 homes of veterans and senior citizens residing in Leisure City.
National Rebuilding Day, celebrated annually on the last Saturday of April across the country, is the culmination of a year of planning, training, and mobilizing thousands of community volunteers. This transformative service project is embraced by community leaders and corporate community partners as a way of bringing immediate, large-scale impact to communities across America in a single day.
Commissioner Levine Cava awarded more than $220,000 in Community Development Block Grant funds to Rebuilding Together Miami-Dade to make capital improvements to 16 homes on National Rebuilding Day and an additional 3 homes after April 29th. Funding also provided beautification and repairs to Live Like Bella Park, a popular neighborhood spot for Leisure City families.
"I'm thrilled to sponsor National Rebuilding Day in South Dade. Rebuilding Together has an excellent record of making critical home repairs that improve the quality of life of our residents in neighborhoods throughout Miami-Dade," said Commissioner Cava. "The services that Rebuilding Together provides to homeowners ensures that they can age in place safely and comfortably."
Volunteers made a variety of critical home improvements, including accessibility modifications for the disabled, safety renovations, energy efficiency upgrades, roofing, plumbing and electrical repairs, as well as painting and landscaping. All repairs were free of charge to homeowners. Often times, vulnerable individuals with diminishing resources must make difficult choices that preclude investment in critical home repairs.
"The homeowners we serve do not seek a handout, simply a hand up. We are proud to act as a safeguard for affordable homeownership opportunities in Miami-Dade. No homeowner should ever have to make the difficult decision between purchasing medication or replacing their roof," said Travis Renville, Director of Operations at Rebuilding Together Miami-Dade.
"Rebuilding Together Miami is committed to preserving affordable housing and making a difference in the community", said Donna Fales, Executive Director of Rebuilding Together Miami-Dade. "Our vision is a safe and healthy home for every person."
At the kickoff, Rosemary Johnson, a Leisure City resident whose home was rehabilitated, shared her story with volunteers and Commissioner Cava, "Home, to me, is place to gather and bring my family. It's security, like a warm blanket. I feel safe here. God has blessed me with this home. Things weren't up to par and I tried to patch things and do what I could on my own but the mold and mildew in my kitchen made me have upper respiratory infections. There were leaks from the pipes and the roof and there was mold all behind the cabinets. They cleaned out all the mold and everything before they replaced the cabinets and my home already feels ten times better. I am just so excited and happy to have this work done…thank you for blessing me!"
In addition to the 16 home repairs, the County fixed 79 sidewalks, filled numerous potholes, mowed overgrown lots, removed unsafe structures and picked up illegally dumped debris and trash. The Miami-Dade Parks Recreation and Open Spaces Department also made improvements to Live Like Bella Park and Leisure Park. Participating Miami-Dade County departments that helped to make National Rebuilding Day in Leisure City a success included, Regulatory and Economic Resources, Solid Waste Management, Transportation and Public Works and 20 Miami-Dade Police officers.
"We were thrilled to work in Leisure City for National Rebuilding Day 2017. Thanks to Commissioner Daniella Levine Cava's office, sponsors, and hundreds of volunteers, we made a tremendous impact to a very deserving community in a single day," added Travis Renville.
"I extend my heartfelt thanks to the hundreds of volunteers, corporate and community partners, the County departments, and especially the Rebuilding Together team for creating transformative change in the lives of so many Leisure City residents. When our community comes together, we all thrive," expressed Commissioner Cava.

(L) Rosemary Johnson shares her story with volunteers and Commissioner Cava on National Rebuilding Day kick-off. (R) Rosemary Johnson shows her brand new kitchen to Commissioner Cava