Commissioners approve Equal Pay affidavit for County vendors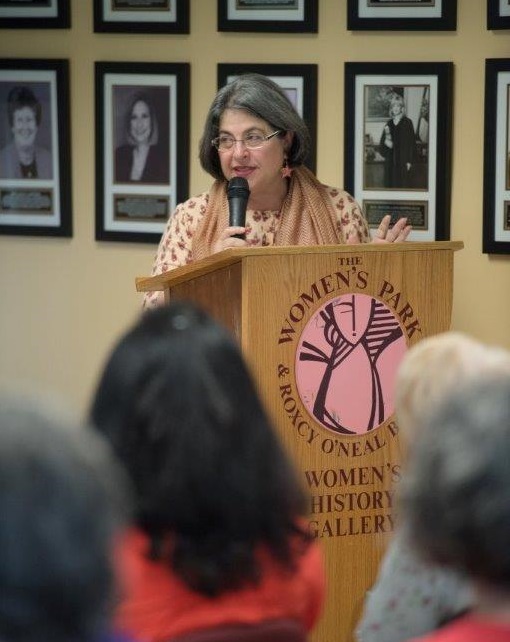 Commissioner Daniella Levine Cava spoke about the need for equal pay during a 2017 Women's Equality Day event in August. Her legislation requiring County contractors to affirm they are complying with the Equal Pay Act was approved on Nov. 7.
(Photo by Ryan Holloway / Miami-Dade County)
MIAMI-DADE – Miami-Dade County Commissioners today approved legislation sponsored by Commissioner Daniella Levine Cava to help close the gender wage gap. The measure will require County contractors to sign an affidavit affirming that they are complying with the Equal Pay Act of 1963.

Roughly one in five women in Miami-Dade County live in poverty. If the wage gap were closed today, the poverty rate among women in our community would drop by more than half, according to the Institute for Women's Policy Research.

"By asking those who do business with the County to pledge to pay their employees fairly, independent of their gender, we are affirming our commitment to ending the wage gap," said Commissioner Levine Cava. "Approval of this resolution helps us make Miami-Dade County the premier place for working women in America."

One of the key findings of the Commission for Women's 2016 Report on the Status of Women and Girls in Miami-Dade County is that women make 87 cents to every dollar a man earns. In 2015, Commissioner Levine Cava sponsored an ordinance adopting the UN Convention on the Elimination of All Forms of Discrimination Against Women (CEDAW). This ordinance, unanimously adopted by the County Commission, requires annual reports to be written and to provide benchmarks that can be used to measure the progress of issues affecting women.

Commissioner Levine Cava said the single issue of the wage gap has far-reaching implications for quality of life in our community. In addition to reducing poverty, closing the local wage gap could provide the County with a competitive advantage economically by attracting and retaining talent needed to excel, promote healthier families, and make our community more vibrant, she said.