Miami-Dade County honors community advocate, leader and family man, Steven Mainster
MIAMI-DADE – The Miami-Dade County Commission on Nov. 21 honored the late Steven Mainster of the Redland area by naming a road after the widely admired farmworker advocate.
A resolution sponsored by Commissioner Daniella Levine Cava, and cosponsored by Commissioner Dennis Moss, designates the portion of S.W. 241st Terrace between S.W. 197th Avenue and S.W. 198th Avenue as "Steven Mainster Way." The road is where Mainster resided with his family.
"It is a great honor for me to be able to recognize Steven Mainster's legacy and commitment to community service and advocacy," said Commissioner Levine Cava. "He was an amazing advocate for our farmworkers and an incredible leader for our community."
For more than 30 years, Steven Mainster served as the executive director of Centro Campesino Farmworker Center in Homestead, a nonprofit South Miami-Dade farmworker advocacy organization. He led the organization as it assisted migrants in obtaining food and learning job skills. Centro provided access to affordable housing and homeownership support, economic advancement, and educational programs for migrants.
Mainster also expanded Centro's services to include dropout prevention and academic enrichment programs for farmworkers' children, including a program offering GED assistance to at-risk youth and work in construction though homebuilding.
As a licensed homebuilder, Mainster served as a member of the "We Will Rebuild" team in South Miami-Dade after Hurricane Andrew devastated the region in August 1992. After Hurricanes Charley and Francis impacted Florida in 2004, he established an office in DeSoto County to help farmworkers rebuild and negotiated with the Federal Emergency Management Agency to acquire trailers to serve as mobile homes for those displaced by the storms.
Following his retirement from Centro in 2008, Mainster continued to advance the cause of social justice by serving on the board of the Everglades Farm Worker Village and negotiating with U.S. Sugar to buy homes owned by the corporation in Palm Beach County to convert into family housing. He also advocated for the restoration of voting rights for felons who had completed all terms of their sentences.
Mainster was also a devoted family man to his wife, Juanita Sanchez Mainster, their children, grandchildren and great-grandchildren. He passed away on July 10, 2017, at the age of 76.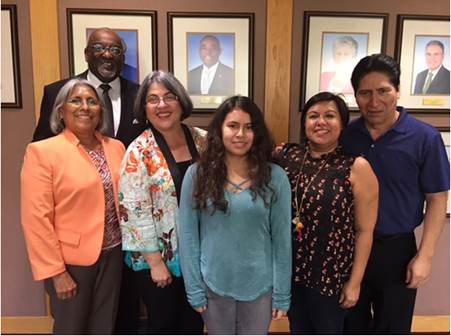 Pictured with Commissioners Moss and Levine Cava are Steven Mainster's wife Juanita Mainster, granddaughter Isabella Lane, daughter Gloria Sanchez-Lane, and son Jessie Mainster.