South Dade business and community leaders unite to create economic development strategy
Commissioner Levine Cava declares that South Dade is ripe and ready for business growth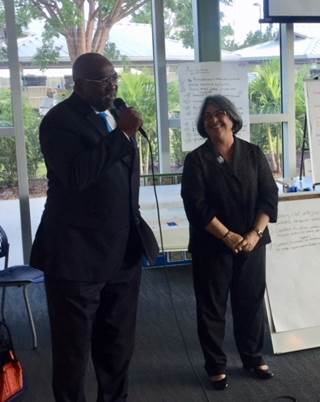 Commissioners Moss and Levine Cava co-host South Dade Solutions Summit.
MIAMI-DADE – More than 120 business and community leaders convened for the third annual South Dade Solutions Summit on Thursday, November 30, to create an economic development strategy that aggressively pursues new business growth for the region. The event was co-hosted with Commission Dennis C. Moss, District 9, who has championed South Dade economic development for over two decades.
A primary theme echoed throughout the event is that South Dade is a great place to live and play, and is poised to become a great place for more to work as well. "South Dade is truly the treasure of our county," said Commissioner Levine Cava, a co-host of the event. "We have the most open spaces in Miami-Dade County, and offer one of the world's most unique habitats with two spectacular national parks and tons of activities for outdoor enthusiasts. In addition to the many nature-based activities for which our area is known, we are a hub for arts and culture, an agricultural oasis, and an area rich in history and beauty. We also host an array of outstanding educational institutions in family-friendly community settings. In South Dade, there is always more to explore and today we are exploring more aggressive ways to attract businesses to our wonderful region."
The main mission of the Summit is to advance an economic development strategy that will help us cultivate business opportunities in South Dade while preserving our unique character. One of the most significant efforts is to work with the Federal Economic Development Administration (EDA) on a cohesive plan for creating a business-friendly environment and comprehensive economic development strategy.
"South Dade has made great strides over the last year with the launch of its marketing campaign, South Dade/More to Explore," said Commissioner Daniella Levine Cava. "Now our region is ready for real economic development and significant job creation."
Participants broke out into working groups to share insights and brainstorm ideas for creating more jobs. One of the outcomes was identifying the region's best assets to attract new business. Those agreed-upon assets include a capable workforce, available land, affordable living, and diverse industries.
The next step is to turn the ideas, assets and strategies into a grant proposal to the EDA so that necessary funding can be obtained.
The event, presented by the Economic Development Council of South Miami-Dade (EDC), was held at ZooMiami, the only sub-tropical zoo in the continental United States and one of the region's most unique assets. The zoo also employs approximately 500 and supports thousands of other jobs in the region.
Key local, state and federal economic development officials participated in the day-long summit that focused on how to market South Dade for economic development and identify targeted industries that are sustainable, well-positioned for significant growth, and can benefit from the assets that are present in South Miami-Dade. WLRN Vice-President of News Tom Hudson, who hosts the popular business news show "The Sunshine Economy," which showcases South Florida industries, was the Summit emcee. Speakers at the daylong event included: Michael Finney, President and CEO of the Miami-Dade Beacon Council; Greg Vaday, U.S. Economic Development Administration; Isabel Cosio Carballo; South Florida Regional Planning Council; and Althea Harris, Assistant Director for the Small Business Administration.
The Summit is the third such event since 2014, sponsored by Commissioner Levine Cava and Commissioner Moss. Past Summits have served as valuable vehicles to develop an identity and marketing program for South Dade.
The outcome of this year's event is equally valuable as the community continues to develop the long-needed strategy for economic growth in South Dade. Visit www.southdadeedc.com for additional information on the Summit and www.miamiandbeaches.com/places-to-see/south-dade for the More to Explore campaign.