Miami-Dade County Commissioners direct Mayor to provide regular transit reports to Board
Commissioner Levine Cava says more data needed for tracking transit progress and meeting public expectations for service improvements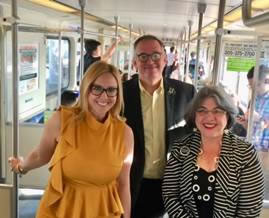 Sharing the Metrorail this morning, from left: Darlene Fernandez, DTPW, Assistant Director, Traffic & Signals Engineering; urban planner and transit/cycling advocate
Victor Dover; and Commissioner Levine Cava.
MIAMI-DADE – The Miami-Dade Board of County Commissioners on Feb. 6 passed legislation directing the Mayor to provide quarterly reports on the daily status of the Metrobus and Metrorail fleet. The resolution, sponsored by Commissioner Daniella Levine Cava, aims to address the many constituent complaints about the condition of the transit fleet. The reports will include daily data on how many buses and trains are in service, how many are inoperable, and how many are operating with broken doors and air conditioners. The report will also require regular updates on the County's progress in putting new Metrorail trains into service.
"This information will help the Commission and the public track how well we are or are not meeting our goals for replacing our very old and breakdown-prone Metrobus and Metrorail fleet," said Commissioner Levine Cava. "This has been a source of frustration for many of our residents and is also the key to winning them back as transit patrons."