Miami-Dade County enacts law barring animal abusers from adopting animals from County shelter
Commissioner Levine Cava continues to advance ideas from rescue community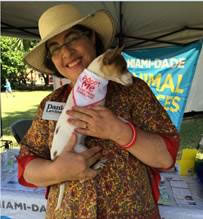 MIAMI-DADE – The Miami-Dade Board of County Commissioners on Tuesday, Feb. 3, passed an ordinance designed to prevent people found guilty of animal abuse from adopting pets from the County's Pet Adoption and Protection Center and from the County's shelter partners.
The new ordinance, sponsored by Commissioner Levine Cava, explicitly prevents people adjudicated of committing animal-related offenses from adopting dogs and cats in the care of Miami-Dade County Animal Services and their animal rescue partners. Potential pet adopters will be checked against a database being developed by the County in collaboration with the Courts and the State's Attorney's Office. The ordinance also strengthens the Animal Service Department's authority to protect animals from harm.
The concept behind the ordinance originated in a forum hosted by Commissioner Levine Cava and co-hosted with Mayor Gimenez several years ago called "A Home for All Pets" where community advocates and rescue organizations gathered to provide their ideas for ways to make Miami-Dade a safer and friendlier place for all of our household pets.
"Our many animal rescue advocates gave us some really great ideas for ways to make Miami-Dade a humane and embracing place for our four-legged friends," said Commissioner Levine Cava. "Including the idea of adding protections against the wrong people getting pets from our shelter."
The ordinance took many months to develop and was a collaboration that included State Attorney Kathy Fernandez Rundle and her team that prosecutes animal abuse cases, and involved significant input from the Animal Services Department and the ASPCA among others active in the dialogue.
"I am proud that my prosecutors have been at the forefront of the efforts to end animal cruelty in Miami-Dade County. Our County Commission clearly wants to protect the animals of this community from those individuals who intentionally or through severe neglect hurt and physically abuse defenseless animals," said State Attorney Fernandez Rundle.
The ordinance will take effect in 180 days to allow sufficient time to create the database tools needed to ensure a quick and timely review of the court records involving crimes against animals.
"I thank the many groups that contributed to the development of this ordinance and for ensuring that we now have an extra layer of protection for the dogs and cats in our care," stated Commissioner Levine Cava.