The 'Year of the Woman' but still so unequal
2018 Miami-Dade County Status of Women and Girls Report released, findings show women get paid 85 cents to a dollar a man earns
MIAMI-DADE – County Commissioner Daniella Levine Cava, the Miami-Dade Commission for Women, the Miami-Dade Commission Auditor and FIU's Metropolitan Center announced the release of the second annual report on the status of women and girls in Miami-Dade County on Dec. 18. The report findings shed a light on areas where women and girls are succeeding and struggling, including in education, health and safety, and economics.
The report, authored by the FIU Metropolitan Center's Dr. Maria Ilcheva, comes as a result of legislation sponsored by Commissioner Daniella Levine Cava. In 2015, the Board of County Commissioners adopted the UN Convention on the Elimination of all Forms of Discrimination Against Women (CEDAW). The ordinance requires a report to be produced each year providing a benchmark for measuring gender equity in the county.
While it has been 55 years since the federal Equal Pay Act was signed into law, women's pay still lags behind men's.
During a presentation to the Miami-Dade Board of County Commissioners, Dr. Ilcheva noted that a key finding is that a larger percent of women have a bachelor's degree or higher, yet women get paid 85 cents to a dollar a man earns. The wage gap has increased from 13 to 15 percent since 2014.
On the upside for women, the findings show a significant decrease in the salary gap between women and men employed by Miami-Dade County government. The average salary of female employees in 2018 is 11.3% lower in comparison to male employees. In 2016, the gap was 14%.
Other key findings include: the increase in female educational attainment, insights on female entrepreneurship, including the percentage of women-owned businesses that receive County contracts, and the significant poverty rate of women in Miami-Dade, which is significantly higher for women of color.
"Behind each of these statistics is a hard-working mother, neighbor, sister, friend, co-worker who is doing her level best, every day, to get ahead," said Commissioner Levine Cava. "We must continue to work together to close the wage gap, ensure gender equity in the workforce, and make sure our women and girls are treated fairly."
The Miami-Dade Commission for Women prepared policy recommendations based on the report. One highlight of the Commission for Women recommendations is that the County adopt policies to require businesses with county contracts and 50 or more employees to provide parental leave.
For a copy of the report and recommendations, contact County Commissioner Levine Cava at [email protected] or 305-378-6677.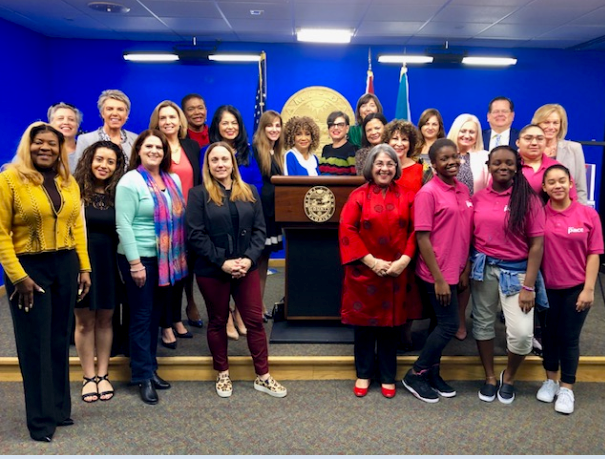 Advocates joined Commissioner Levine Cava for the release of the 2018 report on the status of women and girls.