Commissioner Moss and residents to hold Candle Light Vigil in memory of 2-year-old shooting victim Carnell Williams-Thomas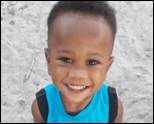 Carnell Williams-Thomas
MIAMI – On December 15, 2017 at approximately 6:18 p.m., Carnell Williams-Thomas fell victim to a stray bullet in the area of SW 214th Street and 114th Court, Miami, Florida. He was only 2 years old. On Friday, February 2, 2018 at 6:18 p.m. Commissioner Dennis C. Moss will revisit the site of this tragic incident along with community residents to hold a candle light vigil in his memory.
The shooter is still at large. Anyone with information regarding the above homicide is requested to contact Miami-Dade Police Department Homicide Detective M. Parmenter at 305-471-2400. If you wish to remain anonymous, contact Miami-Dade Crime Stoppers at 305-471-TIPS (8477) or 1-866-471-8477.
Who:
Miami-Dade County Commissioner Dennis C. Moss
What:
Candle Light Vigil in Memory of Carnell Williams-Thomas
When:
February 02, 2018, 6:18 p.m.
Where:
Arthur Mays Villas: 11341 SW 216th Street, Miami, FL 33170