For Immediate Release:
July 22, 2011
Visit Commissioner Moss' District 9 website



(Miami-Dade County, FL) -- Commissioner Dennis C. Moss invites you to visit his District 9 website. You'll get the latest news and information on services and events in District 9 and throughout the County.

Learn more about his sponsored legislation, The Moss Plan and how you can attend one of his Citizen's Forums. We invite you to sign up for news alerts and send us your comments.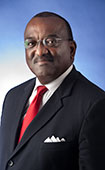 View the Commissioner's website.


# # #
MIAMI-DADE COUNTY COMMISSIONER DENNIS MOSS DISTRICT 9
Stephen P. Clark Center
111 NW 1st Street, Suite 320 Miami, Florida 33128
(305) 375-4832