Commissioner Moss shows his support of Million Trees Miami Campaign
Miami-Dade County Commissioner Dennis C. Moss joined Miami-Dade Parks, Recreation and Open Spaces Department Director Jack Kardys, the Women's International Zionist Organization (WIZO) South Florida Chapter and its members, BioPlanet USA, the Miami-Dade Community Image Advisory Board, and local residents to help plant 150 native coastal trees and shrubs at Haulover Park and Marina in support of the County's Million Trees Miami Campaign.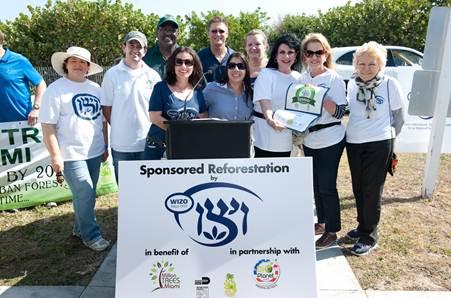 Miami-Dade is a significant tourist destination in large part because of its beautiful beaches and lush vegetation," said Commissioner Moss. "Programs like the Million Trees Miami and Bio Plaint International campaign support that and expand on the idea that planting trees is a critical part of creating livable places. A healthy urban tree canopy is linked to the long-term physical and economic health of a community. Organizations like WIZO understand that the small act of planting a tree increases in value over the life of that tree — in the shade that it will provide in our parks, the air that it will clean, and the long-term aesthetics of the urban forest. I want to thank WIZO for their foresight and commitment to our community."

The Million Trees Miami Campaign is a Community-wide effort to plant 1 million trees by 2020 in order to achieve a 30% tree canopy cover for Miami-Dade County. This campaign was developed by the Miami-Dade Community Image Advisory Board (CIAB) and was born of the idea that a healthy and sustainable urban forest provides significant social, economic, and environmental benefits that fosters a high quality, livable, vibrant, and beautiful community.