Respected urban beautification expert appointed community image manager of Miami-Dade's Community Image Advisory Board
A respected leader in urban beautification is bringing her s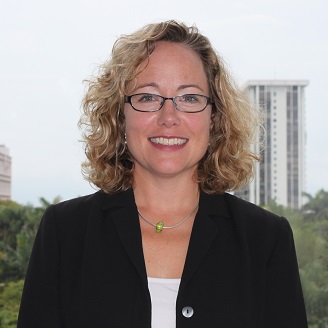 ubstantial credentials to Miami-Dade's ongoing efforts to clean and green the County's public rights-of-way.
Patrice Gillespie Smith, who has nearly 18 years of experience executing policies and plans to create livable communities throughout the nation, has been appointed the new community image manager of the Community Image Advisory Board (CIAB).
"With Patrice's background and passion for creating inviting environments, I know we can grow our influence and generate more opportunities to create beautiful gateways into our community and enhance the quality of life for our Miami-Dade County residents, visitors and employees," said Miami-Dade County Commissioner Dennis Moss, who has served as chairman of the CIAB since its creation in 2002.
Gillespie Smith has served as chief of staff for the Seattle Department of Transportation, community relations director for the Partnership for Downtown St. Louis, and director of transportation planning for Urban Health Partnerships, where she managed the Broward Complete Streets Initiative, Bike Walk Broward, Friends of the M-Path and the Safe Routes to Age in Place initiative for Little Havana. In Seattle, she implemented an aggressive multimodal agenda, created walkable environments and worked with regional agencies to create welcoming, seamless connections into and throughout the city. She is also a co-founder of the Bike Walk Miami Shores initiative. Gillespie Smith completed her bachelor's degree at Marquette University and holds graduate degrees in planning and public administration from Ohio State University.
The CIAB, which is housed in the Miami-Dade Parks, Recreation and Open Spaces Department, is the only multi-jurisdictional group dedicated to creating welcoming community gateways and beautiful connections through the maintenance and improvement of major roadways, transportation terminals and adjacent properties. Working with Board members, including the Florida Department of Transportation, the Miami-Dade Expressway Authority, the Greater Miami Convention and Visitors Bureau, and numerous Miami-Dade municipalities, Commissioner Moss has launched countless beautification efforts, including litter reduction education programs, the Million Trees Miami campaign, the "Revamp the Ramp" initiative, and landscape replacements and enhancements at Metrorail stations.
The CIAB meets the last Wednesday of every month at 10 a.m. at the Greater Miami Convention & Visitors Bureau (Bank of America Building), 701 Brickell Avenue, 27th Floor. Any resident interested in enhancing the aesthetics of Miami-Dade County is invited to attend and participate in the public meetings.
For more information, please contact Commissioner Moss' office at 305-375-4832.