Miami-Dade County honors families during the dedication of the Richmond Heights Pioneers Monument
County, State, and Federal officials honor the families of WWII Veterans that established Richmond Heights in 1949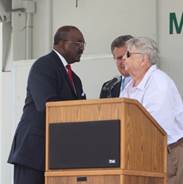 (L to R: Miami-Dade County Commissioner Dennis C. Moss and Capt. Frank C. Martin /
the Richmond Heights Pioneers Monument)
(MIAMI, FL) - This year marks the 65th Anniversary of Richmond Heights, Florida, one of the first suburban neighborhoods developed for black veterans of WWII. Miami-Dade County Commissioner Dennis C. Moss was recently joined by Mayor Carlos Gimenez, Vice-Chairwoman Lynda Bell, Congressman Joe Garcia, State Representative Kionne McGhee, State Attorney Katherine Fernandez Rundle and many other community leaders to honor the founders of this historic community. The Richmond Heights Pioneers Monument is a tribute to the first 26 families to call "The Heights" home. "This community was built for black servicemen who were not satisfied with the subpar, overpriced housing that was available at the time," said Commissioner Moss. "There were just not that many choices."
Captain Frank Carroll Martin, son of Captain Frank Crawford Martin remembered his father who owned and developed the land that would be called Richmond Heights. "My father got the plans and put in the roads, but it is the families that made this a community," said Martin.
The Richmond Heights Pioneers Monument, dedicated on Memorial Day 2014, is located at the intersection of Lincoln Blvd. and Madison St., was an initiative of the Richmond Heights Crime Watch organization. Dinizulu Gene Tinnie, a Miami-based visual artist was commissioned by The Miami-Dade County Department of Cultural Affairs, through its Art in Public Places program, to make this vision a reality. "The design combines the low-gabled silhouette of the typical early Richmond Heights home, with the suggestions of the community's rising aspirations and of flight and aviation in tribute to Capt. Frank C. Martin," said Tinnie. "It is intended to be dynamic, including reflections on the polished granite, changing with the point of view of the observer, particularly from the typical height of a vehicle window."
Richmond Heights, known for its commitment to educational achievement and social engagement, is connected by distinctly curved streets named for U.S. Presidents and civic leaders.